GoPro is the go-to camera for shooting low-cost VR experiences. Two vendors at the NAB Show are showing multi-camera GoPro mounts designed for a variety of VR shooting and display situations. There are different mounts for 2D and 3D capture, for 360 circle vision versus dome versus full spherical capture, and for high-resolution close-ups versus wide vista shots. 360Heros and Freedom360 both offer sealed rigs for underwater shooting down to 30 meters — as well as stitching and other post-production software and support with their mounts.
360Heros (North Hall — N7213) offers a variety of 3D printed blue mounts for professional 2D and 3D shooting. The pitch is that their mounts maintain the multi-camera alignment without screws.
Freedom360 (South Hall — SU14607) is focused on 2D mounts. The company's 3D-printed black mounts appear to be ruggedized. Freedom360 bills itself as a one-stop shop and sells professional-grade stands and other peripherals.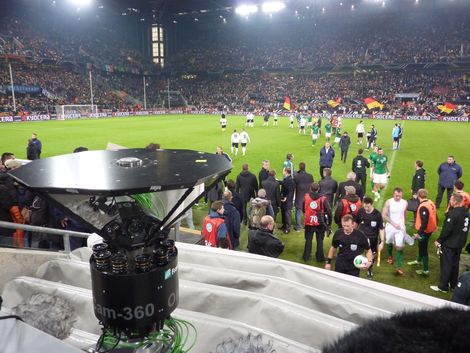 At the other end of the cost spectrum, the Fraunhofer Omnicam (South Hall — SU3714) uses 10 HD cameras pointing vertically at a ring of forward-tilted mirrors to create a 10K x 2K 360 image. The rig (above) has been used at concerts and sporting events. The rig can withstand mildly inclement weather, but the mirrors are exposed to the elements. The price depends on the cameras selected for the rig.
VectorMount, a Freedom360 partner, offers an interesting single-GoPro rig that looks like a high tech weathervane on suction cups. Depending on where you place the counterweight, it will either shoot into the wind or swing in response to centrifugal force. Use cases include drift racing and sailing.
Topics:
2D
,
3D
,
Action Cam
,
Camera
,
Cinematography
,
Drift Racing
,
Fraunhofer Omnicam
,
Freedom360
,
GoPro
,
HD
,
Las Vegas
,
Live Event
,
Mounts
,
NAB
,
Photography
,
Post Production
,
Production
,
Sailing
,
Software
,
Sports
,
Stitching
,
Underwater
,
VectorMount
,
Video
,
Virtual Reality