Intel introduced the next generation of its Thunderbolt controller at NAB. It promises a 20Gbps data rate on each of its two channels, doubling the speed of the interface's current version. The new version, code-named Falcon Ridge, enables simultaneous 4K video file transfer and display and will be backward-compatible with previous versions of Thunderbolt cables and connectors. Initial production is scheduled to begin the end of this year.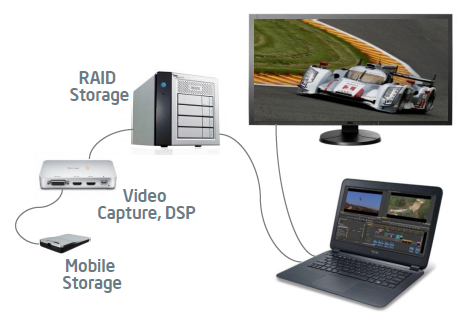 "An on-stage demo with fresh-off-the-press silicon showed the new Thunderbolt running 1,200 MBps, which is certainly a step up from what's currently on the market," according to Engadget. Additionally, "Intel also shared some info about its new Thunderbolt host controller, (code-named Redwood Ridge), which will be built into some of Intel's upcoming fourth-gen Core processors."
According to the Thunderbolt overview page, the technology is designed to transfer data between PCs and peripheral devices. At the current rate of 10Gbps, Thunderbolt enables products that can transfer a full-length HD movie in less than 30 seconds and backup one year of continuous MP3 playback in just over 10 minutes.
The Engadget post includes a brief video of the Thunderbolt on-stage demo. Visit the Intel booth (LVCC #SL9610) at NAB this week for more on Thunderbolt technology.
Topics:
4K
,
Channels
,
Controller
,
Core
,
Falcon Ridge
,
File Transfer
,
Gbps
,
Intel
,
MBps
,
NAB
,
NAB 2013
,
Redwood Ridge
,
Thunderbolt