Film editor Dan Lebental, motivated by the desire to interact more directly with media, has designed an editing app called TouchEdit that he describes as a "21st century version of the Moviola." Lebental was intrigued by the similarity of using the iPad's touchscreen with how editors would formerly "touch film." His app intends to bring back that simplicity while integrating the latest in mobile technology and cloud-based services.
As director Jon Favreau's go-to editor, Lebental's credits include "Iron Man," "Cowboys & Aliens" and "Elf." He "started his career editing film, and he loved it, even when he cut his finger," writes Carolyn Giardina for The Hollywood Reporter.
"It was such a badge of honor to touch film," he said. "I realized that is one of the things we lost. I miss interacting directly with the media."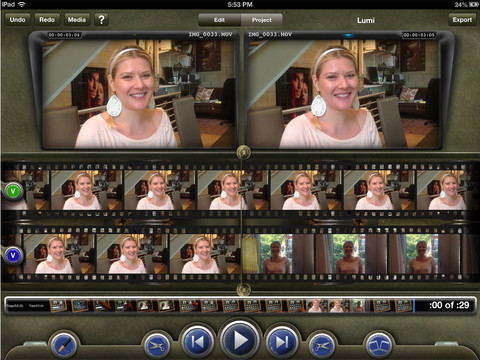 TouchEdit is a frame-based editing app for the iPad, which can serve as a tool for both professionals and enthusiasts. "[Lebental] plans to cut Favreau's next movie with it," writes Giardina.
Lebental set out to design an editing app that he would use to cut a movie. "We are at the dawn of the professional program coming to the iPad and other mobile technology," he said. "I thought there had to be a more efficient way to make movies [with the new technology at our disposal]. This is a way to lead with the way we are going to be working."
The goal was not to include every imaginable editing tool, but focus on those that would enable quick and easy functionality.
"About 85-90 percent of the tools that I use to do huge movies are in here in some shape or form," said Lebental. Editors can use their fingers to scroll the content and drag and drop frames into a sequence. Users can also mark in and out points with the grease pencil tool.
The app supports H.264 up to 1080p, MPEG-4 up to 640 x 480, and M-JPEG up to 1280 x 720. The TouchEdit site includes a full list of features.
Lebental has posted video tutorials on his TouchEdit site. The app is currently available on the iTunes App Store for $50.