Samsung's new TV Discovery service will enable viewers to search for and watch live TV, on-demand video and online videos from outlets such as YouTube. The company plans to unveil the new platform at Mobile World Congress this week in Barcelona. TV Discovery will work on Samsung's line of smart TVs and its mobile devices. The service will learn user preferences and give recommendations based on each user's viewing history and interests.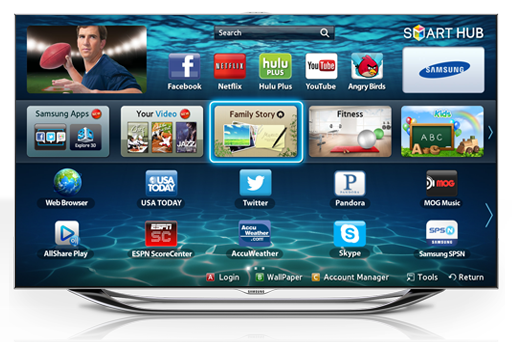 Additionally, the service can turn smartphones or tablets into universal remotes as it enables them to connect "to all major media devices including cable, satellite, home stereos, DVD and Blu-ray players, so users no longer need multiple remote controls to manage their content choices," according to a company press release.
TV Discovery features include the universal remote control, personalized recommendations, one-stop search functionality, cross-device capabilities and social sharing.
"Netflix and Blockbuster will be on tap for the platform in the U.S., while Europe will have access to Acetrax, Wuaki, MovieMax, FilmIn, Chili, Pathé and SF Anytime," reports Engadget.
"TV Discovery lets you search and watch content from across our provider partners, whether within your preferred subscriptions or on-demand," said Dr. Won-Pyo Hong of Samsung's Media Solution Center. "The service also features personalized recommendation technology that enables consumers to 'teach' the service their own personal preferences. The more you engage with the service, the more relevant the returned recommendations for TV, movies and other on-demand entertainment. It could not be simpler."
Samsung plans to launch TV Discovery in the U.S. in Q1 2013.