Holographic technology may be inching closer to mainstream adoption. Mashable offers an interesting look at the history and evolution of the technology, including its roots as a classic parlor trick (called "Pepper's Ghost") — an illusion involving a well-angled mirror to project a reflection — along with contemporary uses seen at Coachella, the London Olympics and this year's Super Bowl.
The hologram's history dates back to 19th century phantasmagoria shows, which "is still used in some capacity today, most notably within Disneyland's Haunted Mansion, where the largest Pepper's Ghost installation resides to make guests feel as though they've entered a haunted ballroom," writes Mashable.
And some elements of Pepper's Ghost were used to achieve the much-discussed Tupac hologram at last year's Coachella festival.
"Instead of a so-called 'real' hologram, the people at San Diego's AV Concepts projected Tupac onto a piece of foil and utilized angled mirrors to put him on stage. Flashes of holographic images continued to crop up during major events within the past year, most notably the London 2012 Olympics and even hologram-style Beyonces during the halftime show of the Super Bowl," notes the article.
Even with all this, "nothing has yet to capture true hologram abilities," according to Mashable. "That is, the holograms everywhere largely are illusions rather than a native, glasses-free 3D projection or a multi-projector orchestration to produce a lifesize image. But, we're well on our way to accomplishing this."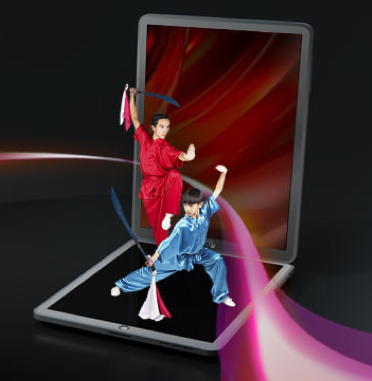 One company, Rose and Thistle, is currently marketing a patented hologram technology called Holographic Paramotion, which relies on a "proscenium-style display box to reflect elements of the hologram onto the center of the stage," explains the article. "The system, called the ShowBox, can then be scaled to reflect the light sources available — big as a movie theater screen or as small as a television."
"We've created a very rich holographic experience through the first half of 2012," says Paul Duffy, president of Rose and Thistle. "We didn't know it at the time, but no one was taking holograms and adding multiple layers of depth or integrating it all into a product."
This technology could be seen in just a few years and Duffy is excited by the prospect of making holograms portable. "The ShowBox already has plans to be scaled into a personal, iPad-sized display piece, but the technology just isn't there yet," writes Mashable.
Other companies, like Infinite Z, are also working to perfect the personal hologram from "a natural starting point — passive 3D technology. Rather than projecting the 3D system without glasses, the zSpace relies on glasses to produce the imagery. But it has a lot of holographic elements incorporated into the system to make it all feel real," explains the article.
Topics:
3D
,
Coachella
,
Hologram
,
Infinite Z
,
iPad
,
Pepper's Ghost
,
Projection
,
Rose and Thistle
,
ShowBox
,
Technology
,
Tupac
,
TV