Lenovo-owned Motorola is bringing back the iconic Razr flip phone as a 6.2-inch smartphone with a foldable display. The phone, which is priced at $1,499 and will be available in December for pre-order in the U.S. as a Verizon exclusive and in Europe, looks like a modern version of the phone originally launched in late 2004. The first Razr sold 130 million units and was a cultural touchstone before Apple launched the iPhone in 2007. Currently, Lenovo only owns a small fraction of the global smartphone market.
Bloomberg reports that Lenovo chief operating officer Gianfranco Lanci said the new Razr "will bring greater awareness to the brand, especially in key markets like North America." It is also on track to become "the first true foldable phone on the market," since other foldable devices are "more properly … described as … foldable tablet[s]."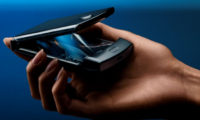 Compared to Samsung's Galaxy Fold, priced at $1,980 and Huawei's Mate X at $2,600, the Razr is the most affordable foldable device out there. Trade-offs include "a small battery at 2,510mAh and … the older Android 9 Pie operating system on Qualcomm's sub-flagship Snapdragon 710 chip." It offers less memory than its competitors and won't offer 5G. The phone will also go on sale in Asia, Australia and Latin America.
Razr mimics the original flip phone in another way: it opens and closes like a classic flip phone (and ends calls by closing the phone), as opposed to other foldable devices' vertical hinges. Closed, the Raz is "a square that's about half the size of an iPhone 11 Pro Max." Until Samsung debuts its second, square-shaped Galaxy Fold, "Motorola looks set to be all alone in offering a regular smartphone capable of collapsing into a pocket-friendly clamshell."
Sergio Buniac, chair/president of Motorola Mobility, noted that the company is "confident in what we achieved," pointing out the design that prevents the widespread problem of tiny particles being trapped under the screen. Razr design chief Ruben Castano dubbed the Razr "a robust solution," with its "stainless steel structural plates between the bottom of the inner screen and the device's internals."
The phone also features a 2.7-inch exterior touchscreen for "quick access to commonly used functions and checking notifications." Unfolded, the Razr offers a full touchscreen version of the Google OS. Castano said, "Motorola started working on a foldable design around 2015 and that its biggest challenge was being able to match the first Razr's ability for the phone to be fully shut with no gap." The 2019 version's "chin" at the bottom "houses electronics such as the LTE antenna."
It will only be available in black with 128 GB of storage, "without further upgrade options." Bloomberg dubs its camera and battery specs as "underwhelming" even though Motorola said it offers "all-day battery life" without more details.
The company will offer "24-hour turnaround replacements under a standard warranty for display failures, and it will charge $299 if the issue falls out of warranty in the U.S." In the U.S., the phone will be for sale at Verizon and Walmart stores in January.
For more reviews of the new Razr, visit Android Authority and/or Engadget.
Topics:
Android 9 Pie
,
Battery Life
,
Camera
,
Flip Phone
,
Foldable
,
Galaxy Fold
,
Gianfranco Lanci
,
Huawei
,
iPhone
,
iPhone 11 Pro Max
,
Lenovo
,
LTE
,
Mate X
,
Mobile
,
Motorola
,
Motorola Mobility
,
Qualcomm
,
Razr
,
Ruben Castano
,
Samsung
,
Sergio Buniac
,
Smartphone
,
Snapdragon 710
,
Touchscreen
,
Verizon
,
Walmart