More Americans are opening small online businesses, and many of them are subscribing to Shopify for tools to build their websites, accept online payments and ship and track orders. This boom is fueling Shopify's growth, but analysts say two factors could slow it down: fewer e-commerce businesses as the pandemic dies down and the failure of many of the nascent small businesses that are subscribers. Meanwhile, Amazon has acquired Shopify rival Selz, an Australia-based company that supports small- and medium-sized e-commerce businesses.
The Wall Street Journal reports that, according to Shopify president Harley Finkelstein, most of its 1+ million customers are first-time entrepreneurs. The Economic Innovation Group (EIG), a bipartisan research organization that uses data from the U.S. Census Bureau, revealed that, "new business applications hit their highest level on record last year, rising 24 percent from 2019," with retail trade as the "most active sector," with a 54 percent bump in new businesses.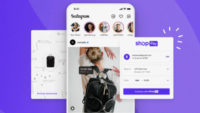 EIG added that, "the bulk of those were merchants that sell goods online or directly to clients." New business subscriptions drove Shopify profits up 72 percent "for the first nine months of 2020, compared with the year before," and its stock has "more than tripled since January 2020, to a market capitalization of roughly $177 billion, about the same as oil and gas giant Chevron."
University of Maryland economic professor John Haltiwanger stated that, "the jump in entrepreneurship during the pandemic is largely a result of hard economic times," as unemployed people try to generate income. "Their contribution to job creation, productivity and innovation is very important," said Haltiwanger.
But small businesses are "vulnerable during downturns," and local commerce platform Womply reported that, "some 30 percent fewer small businesses were open at the end of the 2020 than at the start of that year." Finkelstein "downplayed" the risk that many of its new customers may not succeed.
Elsewhere, WSJ reported that Amazon purchased Shopify rival Selz, founded in 2013 as "an online platform that helps small and medium-size companies launch and maintain their online businesses." PitchBook reported that the private company, previously backed by Macdoch Ventures and Adcock Private Equity, employs 30+ people. WSJ adds that, "Shopify has become a significant threat to Amazon," and, last year, "created a secret team named 'Project Santos' to replicate part of Shopify's business model."
Over the Black Friday weekend, Shopify had aggregated sales of $5.1 billion, "topping Amazon's $4.8 billion from its third-party sales." It adds, "Amazon learned that many sellers had been defecting to the Canadian firm because of Amazon's increasing cut," which can "on average amount to roughly 30 percent of each sale on its platform from outside vendors, up from 19 percent five years ago, according to the Institute for Local Self-Reliance." In contrast, Shopify "collects 2.9 percent plus 30 cents on a transaction."
Topics:
Adcock Private Equity
,
Amazon
,
Australia
,
Black Friday
,
Canada
,
Census Bureau
,
Chevron
,
Coronavirus
,
E-Commerce
,
Economic Innovation Group
,
EIG
,
Harley Finkelstein
,
Institute for Local Self-Reliance
,
John Haltiwanger
,
Macdoch Ventures
,
PitchBook
,
Project Santos
,
Retail
,
Selz
,
Shopify
,
Subscription
,
University of Maryland
,
Womply