Two recent reports document the trend of U.S. households to use only cell phones and, globally, for mobile networks to be the dominant means of accessing the Internet. The Center for Disease Control and Prevention's report shows 47 percent of U.S. homes now only use mobile phones. The annual survey of the International Telecommunications Union reveals that there are 7.1 billion mobile subscriptions globally, and more than 95 percent of the earth's inhabitants are within reach of a mobile network signal.
The Wall Street Journal details the CDC's report, which found that 8 percent of households have only landlines and 42 percent have both a landline and a mobile phone. With the trend continuing, more than half of U.S. homes are likely to be wireless in 2016.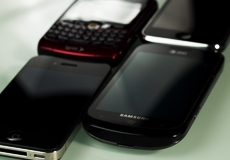 "The tipping point is approaching," says the CDC report's lead author Stephen Blumberg. The data, based on in-person interviews in more than 21,000 homes, also found that poor adults and younger people are more likely to have only cell phones. About 71 percent of people in their late 20s have only cell phones. In the Midwest, 52 percent of adults have homes with only a cell phone. In the Northeast, that number was 32 percent.
According to TechCrunch, the ITU survey continues to rate the Republic of Korea as "the most-connected place in the world" when it comes to Internet connectivity and how well data services are adopted in the country. The U.S. moved up one spot to No. 16; mainland China is No. 82 and India is at No. 131. The ITU data also shows that mobile broadband subscriptions, at 47.2 percent, have overtaken households with Internet access (46.4 percent) and fixed broadband subscriptions (10.8 percent).
Meanwhile, about 350 million people globally do not have any access to the Internet, including those in the world's least-developed countries, among them Malawi, Madagascar, Ethiopia, Eritrea and Chad.
Topics:
Broadband
,
Cell Phones
,
Chad
,
China
,
Communication
,
Eritrea
,
Ethiopia
,
India
,
Internet
,
ITU
,
Korea
,
Landlines
,
Madagascar
,
Malawi
,
Mobile
,
Mobile Broadband
,
Mobile Phones
,
Phones
,
Smartphones
,
Stephen Blumberg
,
United States
,
Wireless