Two years after it first announced its Prime Air drone project, Amazon has unveiled its latest UAV prototype, with plans to eventually deliver packages to customers in less than 30 minutes. In a video featuring former "Top Gear" host Jeremy Clarkson, a new hybrid design is introduced — a larger vehicle that is essentially part helicopter and part airplane. The drone can still take off and land vertically, but it can also shift to a horizontal flight mode with the capability of flying 55 mph for more than 15 miles.
The Seattle-based company says the new prototype adds a rear-facing propeller and can reach an altitude of nearly 400 feet. The video shows that unlike the aircraft's predecessor, the new drone stores items in the fuselage rather than attaching them below.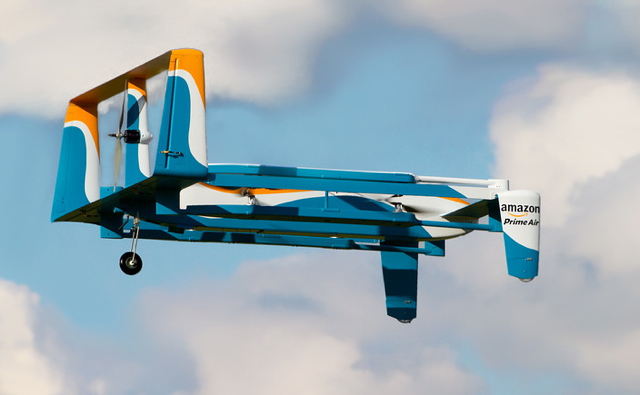 "This design enables it to fly long distances efficiently and go straight up and down in a safe, agile way. It is one of many prototype vehicles we have developed," an Amazon spokesperson told TechCrunch. "One day, seeing Prime Air vehicles will be as normal as seeing mail trucks on the road."
Amazon says it is developing a family of drones designed for different purposes and environments.
"The new drones feature at least some degree of sense-and-avoid technology and once it arrives at its intended location, it'll scan the area and look for a landing spot," notes TechCrunch. "Right now, it looks like users will be able to mark this spot in their yard, for example, with an Amazon logo. The drone then lands, drops off the package and takes off again."
The Wall Street Journal questions the viability of implementing a landing logo that places the onus on customers, citing concerns regarding additional cost and distribution of the landing square, appropriate landing areas free of obstacles (especially in urban areas), and even the possible danger involving pranksters.
While the new prototype has made progress regarding several technical challenges, the delivery model still faces other hurdles.
"The FAA is expected to finalize rules next year that would prohibit drones from flying beyond sight of an operator or over bystanders," notes WSJ. "The rules would also require one operator per drone. It's unlikely that delivery drones would be commercially viable under such restrictions. And with the expansion of one and two-hour delivery in many of the larger U.S. markets, it's an open question whether customers will see the need to shave another 30 minutes off a delivery time."
Google and Walmart are among those also developing drones for package delivery.
Related:
6 Myths About Amazon Prime Air and Drone Delivery, Debunked, MarketWatch, 12/2/15
FAA Permit for Drone Flight School May Help Amazon, Google Speed Up Delivery Plans, Re/code, 11/30/15
Topics:
Aircraft
,
Airplane
,
Amazon
,
Amazon Prime
,
Battery Life
,
Delivery
,
Drone
,
E-Commerce
,
FAA
,
Flight School
,
Google
,
Helicopter
,
Jeremy Clarkson
,
Landing Pad
,
Members
,
Operator
,
Permits
,
Pilot
,
Prime Air
,
Prototype
,
Quadcopter
,
Regulation
,
Restriction
,
Retail
,
Seattle
,
Sensor
,
Shipping
,
Subscriber
,
Top Gear
,
UAV
,
Walmart