At E3, Microsoft debuted the 4K video-capable Xbox One S, which is 40 percent smaller and $49 less than the previous $349 Xbox. The new console, also offered as a $400 version for a 2-terabyte hard drive, will unveil as a special edition in August and a standard version by end of year. Microsoft also plans to release a new virtual reality console and cross-platform games. Microsoft is in heated competition with Sony, which has sold an estimated 40 million PlayStation 4 consoles versus Microsoft's estimated 21 million Xbox Ones.
The Xbox One S includes a built-in power supply and IR blaster, and can be positioned horizontally or vertically. In addition to Blu-ray and 4K Ultra HD, it also offers high dynamic range support for gaming and video. The company will offer a redesigned Xbox Wireless Controller with textured grip and Bluetooth support, packaged with the console and available separately for $60.
The New York Times reports that, with Project Scorpio, to debut months hence, Microsoft will enter the virtual reality market. Xbox head Phil Spencer says he announced the new console early in order "to give our developers and partners the ability to take advantage of that capability now."
Wedbush Securities analyst Michael Pachter says that, because the VR Xbox "will most likely be more expensive," it isn't likely to cannibalize Xbox One sales. Microsoft also states that more Xbox games will be compatible "across all of its hardware products," as well as on Apple, Google and Microsoft PC platforms.
According to The Wall Street Journal, Microsoft will bring users together in several new ways: virtual spaces called Clubs that "give players the ability to form groups of gamers around the world and control their membership" and Xbox Looking for Groups, a bulletin board-like service "to help Xbox Live's 46 million monthly active users find like-minded players to compete with or against."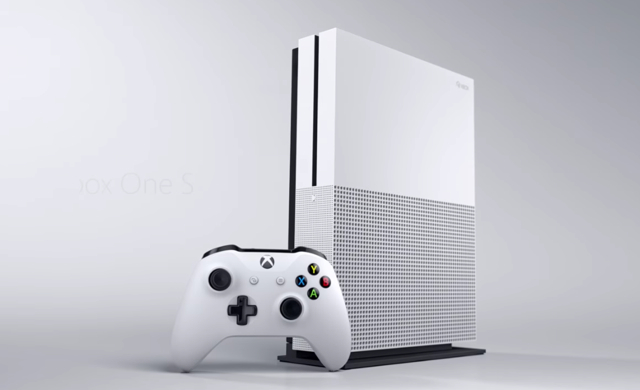 The features, to be introduced by end of year, are part of Microsoft's Gaming for Everyone strategy, which includes a corporate commitment to "greater diversity among Microsoft's Xbox staff as well as the virtual characters in the games its studios create."
The commitment to diversity comes at a time that the game industry has been forced to recognize that women, African-Americans and others "have endured abuse from other participants," including, in recent years, "threats of rape and murder."
Xbox clubs will, in essence, allows players to police themselves. "If you went in and befouled the club or somebody's house, that there would be some personal consequence to it," said Clubs engineering lead Ashley Speicher. Spencer says he anticipates that all kinds of affinity groups will arise, from Porsche fans to the group he wants to join: "Dads who don't like profanity and go to bed at 10."
But International Data Corp. research director of gaming Lewis Ward points out that, "private Clubs could harbor communities that encourage unsavory speech or ideas." All participants will be required to abide by Microsoft's Code of Conduct which bars hate speech among other behavior.
Related:
Xbox: Start to Continue, The Verge, 6/13/16
Microsoft's New Vision Goes Beyond Console Generations, IGN, 6/13/16
Everything We Saw at Microsoft's E3 Event, Engadget, 6/13/16
Watch Microsoft's Xbox E3 Event in Under 15 Minutes, Engadget, 6/14/16
Microsoft Announces the Xbox One S, Its Smallest Xbox Yet, The Verge, 6/13/16
All the News From Microsoft's E3 2016 Press Conference, GameSpot, 6/13/16
Topics:
4K
,
Apple
,
Ashley Speicher
,
Blu-ray
,
E3 2016
,
Gamer
,
Gaming for Everyone
,
Google
,
HDR
,
International Data Corp.
,
Lewis Ward
,
Michael Pachter
,
Microsoft
,
Microsoft Clubs
,
Phil Spencer
,
PlayStation 4
,
Project Scorpio
,
Sony
,
Ultra HD
,
Video
,
Virtual Reality
,
Wedbush Securities
,
Xbox
,
Xbox Live
,
Xbox One
,
Xbox One S