According to internal documents obtained by TechCrunch, Microsoft is pursuing a $1 billion purchase of the digital assets of Nook Media LLC, the digital book joint venture between Barnes & Noble and investors. "In this plan, Microsoft would redeem preferred units in Nook Media, which also includes a college book division, leaving it with the digital operation — e-books, as well as Nook e-readers and tablets."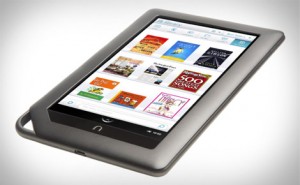 "The documents also reveal that Nook Media plans to discontinue its Android-based tablet business by the end of its 2014 fiscal year as it transitions to a model where Nook content is distributed through apps on 'third-party partner' devices," reports TechCrunch.
"Speculation about the plan to discontinue the Nook surfaced in February. The documents we have are not clear on whether the third-party tablets would be Microsoft's own Windows 8 devices, tablets made by others (including competing platforms) or both. Third-party tablets, according to the document, are due to get introduced in 2014."
Nook e-readers would not be immediately discontinued, but a natural decline is projected as consumers increasingly switch to tablets as all-purpose devices.
Microsoft first teamed with Barnes & Noble on Nook devices in April 2012 when the company invested $300 million, plus an additional $180 million specifically for developing content for Windows 8 devices.
"To date, there have been 10 million Nook devices sold, including both tablets and e-readers, with more than 7 million active subscribers," reports TechCrunch. "Microsoft has seen limited interested in its Windows 8 devices (although it says it has sold more than 100 million licenses for the OS to date). Currently the Nook app is available on every major platform, including Android, iOS and Windows."
The Nook division has experienced a steady decline since a slow holiday season. Its flagship 10-inch Nook HD+ has dropped from $269 to $179, the same price as the Kindle Fire HD. "If Microsoft steps in, the dedicated e-reader race between the stalwart B&N and Jeff Bezos' Amazon could be over," suggests the article.