BitTorrent announced the BitTorrent Bundle earlier this week, a new format that provides access to free content in addition to a gateway to other material. It offers content creators a new means of distributing and monetizing their work outside the confines of traditional methods. BitTorrent continues its efforts to transform the file-sharing software into a legitimate platform for movies and music.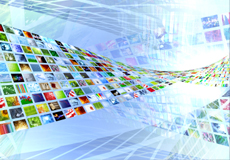 The San Francisco-based company hopes it peer-to-peer file-sharing technology will step out from its piracy shadow to become a necessary component of media distribution.
"Many people don't realize that we have over 2 million pieces of licensed and legal content available in our ecosystem," explains Matt Mason, BitTorrent's VP of marketing. "It is true that our technology is exploited as part of a stack of technologies used for piracy. But you'll find that as a standalone tool we are not a very good piracy tool. We don't rip CDs or capture movies on camcorders. We don't host content that infringes on copyright, we don't index it, point to it or promote it in any way. All of those things happen outside of BitTorrent."
"The BitTorrent Bundle is described by the company as an evolution of the torrent file concept," reports Wired. "The user downloads the Bundle, which contains not only free content — in the case of the first Bundle, the Dada Life remix of the Kaskade track 'Dynasty,' as well as the trailer for Kaskade's 'Freaks of Nature' tour documentary — but also a gateway to premium content, as well."
Access to content is controlled by the musicians, filmmmakers and artists. Options currently include pay gates, pay-what-you-want gates, and links to outside services such as Netflix or iTunes.
"One of the hurdles we face is the way we are perceived by Hollywood," Mason said. "Many in that industry think we are Napster or The Pirate Bay. But they are misinformed. Although it's true that Hollywood and Silicon Valley have long misunderstood one another, we see everyday the value we can offer."
Topics:
BitTorrent
,
BitTorrent Bundle
,
Copyright
,
Distribution
,
File Sharing
,
Film
,
iTunes
,
Legal
,
License
,
Movie
,
Music
,
Netflix
,
P2P
,
Peer-to-Peer
,
Piracy
,
Premium
,
Streaming
,
Video