Microsoft used its E3 media event last week in Los Angeles to present its vision of the future of immersive entertainment with a "mixed reality" demonstration of the popular video game "Minecraft" seen through its HoloLens headset. The demonstration at the Shrine Auditorium exhibition hall lasted only a few minutes but its impact continues to resonate. Although Microsoft has provided few detailed plans, its early demos and comments made at E3 and other conferences suggest a future that is something more than a virtual or augmented reality.
The E3 demo featured one person playing on a tablet while a second player wearing the HoloLens headset (and the audience via a live view) could see the first player's avatar moving in a 3-dimensional "Minecraft" world. With the HoloLens, the player could not only move in and through the world, but could also interact and manipulate it.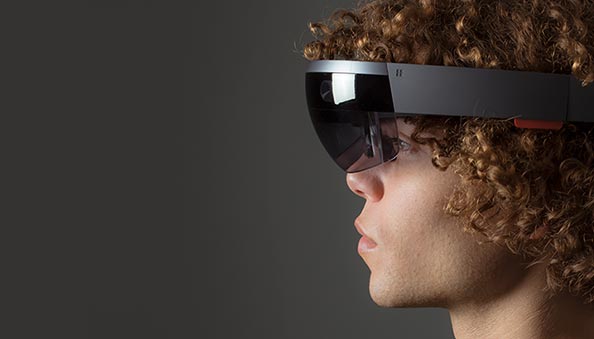 Impressive as the initial demonstration was with the game world seemingly projected on a wall in front of the player, the capacity audience gasped audibly when the player voice-directed the HoloLens to display the "Minecraft" world on a table. Cool as that was, it was fun to see that he could walk around this model, see other players, move and affect the world.
Visitors to Microsoft's booth were able to experience a taste of the blockbuster game "Halo" with the HoloLens. According to Bloomberg, "Microsoft shuttled attendees in batches of 10 into a room that resembled the inside of a spaceship. Each one was outfitted with a HoloLens headset and walked into a briefing room, where a hologram of a battlefield emerged from a table and a computerized voice ran through tactical instructions. The groups then played, on Xboxes, the multiplayer mode of 'Halo 5: Guardians.' The headsets weren't involved in the gameplay itself."
The "Halo" demo is similar to a cinematic, where a "cut scene" sets up the story and action that follows.
"As a proof of concept, though, Microsoft's HoloLens is just as impressive as the first demos we saw of Oculus' virtual reality technology three years ago, if not more so," reports Ars Technica. "Over the years, Oculus slowly fixed most of the problems with that blurry, nauseating demo. If Microsoft can make similar strides with the problems in HoloLens before it becomes a consumer product, we'll be just as excited about its potential gaming applications."
In these early days of immersive content, creative teams are exploring how to use, tell stories and create experiences in what appears to be more of a new medium than a mere extension of an existing one. This is a refrain heard in general about VR.
It was a topic of discussion at ETC's own recent Digital Town Square event on VR and narrative. And it was a primary topic during an all-star panel at FMX, a prominent European computer graphics, visual effects, animation and games conference held last May in Stuttgart.
Alex Laurant, a senior designer of HoloLens experiences for Microsoft Studios, sees "mixed reality" as a new and different experience that may build on but is not the same as games, movies and television. He made particular note of the precious commodity of a users' attention. As FXGuide quoted him, "You have to persuade the audience to take actions that are natural and intuitive."
Microsoft is taking a conservative approach at this stage of development. "It is a very new platform and we're still exploring it," Shannon Loftis, Microsoft's general manager for global games publishing told Bloomberg. "We obviously don't want to over-promise. I don't think we'll under-deliver."
Related:
Is Reality an MR App? Virtual Reality & Mixed Reality at FMX 2015, CGSociety, 6/2/15
Minecraft HoloLens Demo at E3 2015 (Video), Kotaku, 6/15/15
How Minecraft and Halo Make the Most – and the Least – of HoloLens, Ars Technica, 6/20/15
E3 2015: Five Days in LA That Left Gamers Stunned, The Guardian, 6/22/15
Virtual Reality Invades E3, VR Digest, 6/24/15
Topics:
Alex Laurant
,
Animation
,
App
,
AR
,
Augmented Reality
,
E3
,
Entertainment
,
ETC
,
FMX
,
Game Console
,
Gamers
,
Gaming
,
Halo
,
Halo 5: Guardians
,
Headset
,
HoloLens
,
Immersive
,
Microsoft
,
Minecraft
,
Mixed Reality
,
Movies
,
Oculus
,
Oculus Rift
,
Shannon Loftis
,
Tablet
,
Television
,
Video Game
,
Virtual Reality
,
VR
,
Xbox
,
Xbox One