At the Mobile World Congress in Barcelona this week, Qualcomm demonstrated the next generation of 4G LTE, called LTE Advanced Category 6, which produces download speeds of 300Mpbs. This technology will be integrated into Qualcomm's Snapdragon 805 processor, which will be used in next-gen Android tablets. The technology is already being used for networks in South Korea, mainly due to interest from broadcasters who want to use it for delivering 4K TV.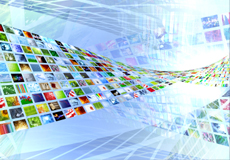 Critics are questioning the need for this high-speed technology in the U.K., where the technology is expected to mainly be used for business.
Qualcomm demonstrated two simultaneous Ultra HD videos streaming over the LTE connection at 90Mbps, and another TV set displaying two 1080p HD streams.
According to Wired, "this [speed] was achieved by using something called 'carrier aggregation,' where bandwidth from the 2.6GHz spectrum are combined to deliver double the bandwidth."
By the end of the year there could be tablet computers using these networks that would have download speeds twice as fast as the fastest currently available broadband technology.
"Our demonstration showed real-world speeds over 290Mbps," said Dave Salam, mobile network operator EE's director of network strategy. "Commercial availability is scheduled for October, and we aim to roll out across the rest of London by the end of the year."
Topics:
4G
,
4K
,
Advanced
,
Android
,
Bandwidth
,
Barcelona
,
Broadband
,
Carrier
,
Category 6
,
Commercial
,
Computer
,
Congress
,
Connection
,
Demo
,
Download
,
EE
,
Fast
,
Launch
,
London
,
LTE
,
Mobile
,
Network
,
Operating
,
Operator
,
PC
,
Processor
,
Provider
,
Qualcomm
,
Salam
,
Snapdragon
,
Spectrum
,
Speed
,
Stream
,
System
,
Tablet
,
Technology
,
Television
,
TV
,
UHD
,
UK
,
Ultra HD
,
Wired
,
Wireless
,
World