LG announced that its new family friendly, all-in-one computer powered by Chrome OS will be available for $350. The "simple, fast and secure" Chromebase will take on the iMac-dominated all-in-one space when it begins shipping this month. Chromebase combines cloud computing, access to "tens of thousands of apps" via the Chrome Web Store, a widescreen 21.5-inch 1080p display, an Intel Celeron 2955U Haswell processor, 2GB of RAM and 16GB of storage.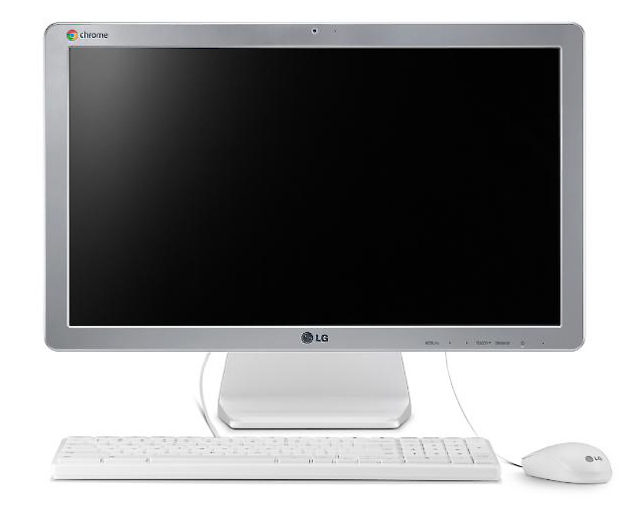 "Personal computers have obviously become central to each member of the family, regardless of age, which is why it's important to have one that's easy to use," said Thomas Lee, senior vice president, LG Electronics USA. "Google's suite of programs, ability to update software and cloud-based storage allow the LG Chromebase to offer a simple, modern computing experience."
The LG Chromebase model 22CV241 will be available starting May 26 at Amazon, Fry's Electronics, Micro Center, Newegg, and Tiger Direct. It will also be available for online pre-sale beginning May 12. LG is including 100GB Google Drive cloud storage free for two years.
"Connectivity options consists of 802.11n Wi-Fi, Bluetooth, one USB 3.0 port, and a trio of USB 2.0 ports," reports Digital Trends. "An Ethernet jack is included in case you prefer a faster, more stable Internet and network connection. There's also an HDMI-in port, which means that you can use the Chromebase's monitor as a mini HDTV."
The all-in-one computer was previewed at CES in January where it earned an Innovations Award in the Computer Hardware & Components category. LG is emphasizing the family-friendly ease and security of cloud computing, and access to the "best of Google" (Gmail, Google Play, Google+, Drive, Maps, Search, YouTube, Hangouts).
"Google Docs, Sheets and Slides are built-in and users can open, edit and share Microsoft Word and Excel files using the free, built-in editor," notes the press release. "For added security, all content (including family photos and videos) is stored in the cloud, making them accessible from other devices, such as tablets or other computers, as long as they are connected to the Internet. Cloud applications like Google Docs allow anyone in the family to login to their account and pick up right where they left off in any particular document."
Topics:
1080p
,
Amazon
,
App
,
Application
,
Bluetooth
,
Celeron
,
CES
,
Chrome
,
Chromebase
,
Cloud
,
Computer
,
Display
,
Drive
,
Electronics
,
Ethernet
,
Excel
,
Family
,
File
,
Fry's
,
Gmail
,
Google
,
Google Play
,
Hangouts
,
Haswell
,
HD
,
HDMI
,
HDTV
,
iMac
,
Image
,
Intel
,
Internet
,
Las Vegas
,
Lee
,
LG
,
Maps
,
Micro Center
,
Microsoft
,
Newegg
,
PC
,
Photo
,
Search
,
Secure
,
Security
,
Sheets
,
Slides
,
Storage
,
Store
,
Tablet
,
Tiger Direct
,
USB
,
Video
,
Web
,
Wi-Fi
,
Word
,
YouTube