Barnes & Noble announced this week that it will stop producing its own color tablet e-reader, the Nook, in favor of third party, co-branded devices. The company's decision may reflect a trend in the decline of dedicated e-readers competing with the growing popularity of tablet devices. Consumers are looking to tablets, which have more features and apps available, including e-reader capability, compared to standalone e-readers.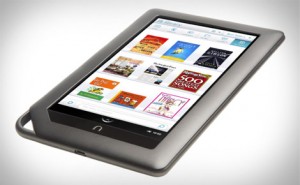 Despite heavy investments in developing its own device, Barnes & Noble has been unable to compete with other tablet and e-reader makers, such as Amazon and Apple.
"The bookseller said Tuesday that losses at its Nook digital business more than doubled in the quarter ended April 27, easily wiping out profits generated at its bookstores," reports The Wall Street Journal.
Barnes & Noble will continue to make black-and-white Nook e-readers, which accounts for a majority of their e-book sales. However, the sustainability of the Nook and e-reader market is in doubt as e-reader sales are expected to decline over time, while tablets are expected to rise.
The Nook received critical acclaim, but its lack of a wide variety of app choices, movies and music, does not rival other devices that offer more options and features. The decline in prices of tablets and e-readers was another pressure.
Sarah Rotman Epps, analyst at Forrester Research, faults Barnes & Noble for not developing their small customer base. She also believes that Barnes & Noble does not have the resources for consumer electronics.
In 2012, Barnes & Noble created Nook Media LLC, combining its college bookstores and the Nook business, as well as bringing outside investment from Microsoft and Pearson PLC. It remains unclear if this will save the Nook in the long run.
The decline in Nook sales is also hurting Barnes & Noble retail stores, with sales falling 10 percent.