According to the American Time Use Survey released by the Labor Department yesterday, Americans spent less time at work in 2012 and spent more time involved with leisure activities such as watching television. The survey suggests that the country's sluggish recovery continues to impact workers. While time devoted to volunteering dropped, time spent on leisure and sleeping increased. Americans watched TV for two hours and 50 minutes per day, a second consecutive annual increase.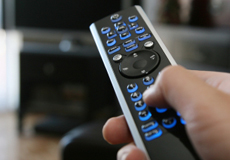 "The average American aged 15 or older spent three hours, 32 minutes a day doing work-related activities last year," reports The Wall Street Journal. "That is down from 2011, when time spent on work jumped from three hours and 30 minutes to three hours and 34 minutes. While such changes may not seem big, average yearly changes in time spent on different activities tend to be small, and even minor changes are significant."
The U.S. unemployment rate dropped in 2012 from 8.3 percent to 7.8 percent, but other trends are likely affecting hours spent at work, including an increase in the number of part-time workers.
"Meanwhile, the share of the population working or looking for a job dropped to 63.6 percent at the end of last year, compared with 64 percent in December 2011," notes the article. "That number, known as the labor force participation rate, has been falling as a result of a combination of discouraged workers dropping out of the workforce and baby boomers retiring."
Topics:
America
,
American Time Use Survey
,
Baby Boomer
,
Economy
,
Employment
,
Federal
,
Government
,
Labor
,
Labor Department
,
Participation
,
Retire
,
Study
,
Survey
,
Television
,
Trend
,
TV
,
Unemployment
,
Workforce