Cinema sound and related standards were hot topics at last week's CinemaCon conference in Las Vegas. Industry leaders discussed the promise of immersive sound to extend the theatrical experience into one that cannot be duplicated in the home. They also addressed the issue of developing how to create and distribute mixes for the new types of sound systems that are soon going to show up in theaters. The proposal of an open format approach was debated.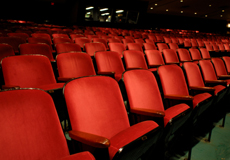 "To understand the situation," writes Carolyn Giardina for The Hollywood Reporter, "start with a look back to February, when NATO and the Union Internationale des Cinemas (UNIC) released cinema exhibitor requirements for immersive sound technologies to ensure that any audio rendering system that an individual cinema may choose is capable of playing back immersive sound when a studio releases it."
"This requirement impacts all sound system developers, particularly the two companies making the biggest push in the space: Barco, developer of the Auro 11.1 system, and Dolby, creator of the Atmos system," notes Giardina.
Prior to a sound panel at the conference, Barco and audio technology developer DTS announced joint support for a proposed open format which would allow for immersive object-based cinema sound, which they jointly believe will satisfy the NATO/UNIC requirement.
In the announcement, the companies said: "The efforts represent a collective desire to protect exhibitors' freedom of platform choice, ensuring their ability to play any movie regardless of which 3D audio system they procure."
To accomplish this, the companies are recommending the DTS MDA (Multi Dimensional Audio) technology, which is an open object-based archiving/mezzanine format.
"We hear from every studio that multiple mixes are not sustainable financially. We'd like to find a common workflow and common deliverable," explained DTS senior director John Kellogg.
However, Dolby suggested otherwise. "It will lead to a bad experience in the [theater]," Matt Cuson, senior director of cinema at Dolby, told THR. "You need to have control of how to capture and reproduce the artists' work. The NATO spec is suggesting that you break them apart. Then you lose control of the quality and consistency of the experience. The industry needs standards. Some portions need to be open… Some parts are best kept closed."
"With immersive sound still new — and installation costs that could range anywhere from $50,000 to more than $200,000, depending on system, size of theater and other variables — the stakes are high, as any requirements could potentially impact a theater owner's decisions as to when or what to adopt," notes the article.