IDC reports that Huawei surpassed Apple in smartphone shipments for Q2 and Q3 2018, marking the first time in seven years that Samsung and Apple did not maintain the top two spots together. Huawei held 14.6 percent of Q3 market share, representing a 32.9 percent jump over Q3 the previous year (Samsung took 20.3 percent of the market for Q3 this year, while Apple held 13.2 percent). Huawei is doing well with its P20, P20 Pro and Honor models, while analysts are watching what happens with the newly released Mate 20 and Mate 20 Pro.
"Smartphone vendors shipped a total of 355.2 million smartphones worldwide in Q3 2018, down 6 percent from the 377.8 million units in Q3 2017," explains VentureBeat. "Of the top five, only Samsung and Oppo shipped fewer units than the year before."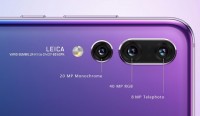 Apple's share only grew 0.8 points due largely to the iPhone XS, but the new iPhone XR is expected to be popular this holiday shopping season.
"Xiaomi jumped 2.2 points (to 9.7 percent), while Oppo gained 0.3 points (to 8.4 percent). Those two are battling it out for fourth just as closely as Apple and Huawei now are for second. Companies outside of the top five together lost 5.8 points." (Pictured above: the Huawei P20 Pro.)
Analysts are paying close attention to Q4, since Samsung commonly leads the first three quarters and Apple dominates the fourth quarter.
"Will Q4 2018 follow the usual order (Apple, Samsung, Huawei) or will we see another shakeup?" asks VB. "And, more importantly, what will the overall numbers show for the full year?"
The holiday quarter should prove interesting "with a wide selection of new flagship devices available" and numerous options, including "new iPhones, Mate 20, [Google] Pixel 3, [LG] V40, Note 9, and OnePlus 6T."
Meanwhile, IDC also reports that tablet shipments are down for the sixteenth consecutive quarter. According to VentureBeat, "Q3 2018 saw an 8.6 percent year-over-year decline: 36.4 million unites shipped worldwide, compared to 39.9 million units in the same quarter last year. The only silver lining is that the Q3 2018 decline wasn't double digits again."
Apple held its top spot, followed by Samsung and Amazon. "Huawei was the only company in the top five to ship more tablets than the year before," notes VB. "The top five vendors accounted for 68.4 percent of the market, up from 67.1 percent last year."
Topics:
Amazon
,
Apple
,
China
,
Galaxy Note 9
,
Galaxy S9
,
Galaxy Tab A
,
Galaxy Tab S4
,
Google Pixel 3
,
Huawei
,
Huawei Honor
,
Huawei Mate 20
,
Huawei Mate 20 Pro
,
Huawei P20
,
Huawei P20 Pro
,
IDC
,
iPad
,
iPad Pro
,
iPhone
,
iPhone XR
,
iPhone XS
,
LG V40
,
Mobile
,
OnePlus 6T
,
Oppo
,
Samsung
,
Smartphone
,
Tablet
,
Xiaomi