At ViveCon 2021, HTC debuted two new Vive virtual reality headsets, the HTC Vive Pro 2, which connects to the PC, and the standalone HTC Vive Focus 3. The company, which teamed with Valve to make its first Vive headset in 2015, has seen the VR business explode in numerous markets served by its Vive Pro and Vive Focus, aimed at enterprise markets and debuting in 2018.  The new headsets feature 5K resolution, a 120-degree field of view and RGB sub-pixels. The Vive Pro 2 will go on sale June 4 and Vive Focus 3 on June 27.
VentureBeat reports that HTC also introduced Vive Business, "a range of new tools designed specifically for businesses of all sizes to exploit VR." The Vive Pro 2 (below) is aimed at "incredible gaming, creating, and experiences," and the Vive Focus 3 at the enterprise market with "a purpose-built, all-in-one platform."
HTC global head of enterprise Dan O'Brien said the Vive Pro 2 and Focus 3 also feature two 2.5K panels, each of which can "push 36 million pixels." "It comes down to really strong graphics, and high field-of-view, for those simulation training sessions," he said.
HTC chief executive Cher Wang has stated that the headsets are "a major milestone in the quest to create the best immersive experiences … designed from the ground up to deal with professional challenges using the latest technology available."
The company "worked closely with Nvidia and Advanced Micro Devices to use Display Stream Compression," a first for a VR headset, which "ensures maximum visual quality and is also backwards compatible with DisplayPort 1.2, so even graphics cards that supported Vive Pro will see a benefit with Vive Pro 2."
Vive Pro 2 also offers "fine-adjustable inter-pupillary distance (IPD, or the space between your eyes), evenly distributed weight balance, adjustable head strap, and a quick-adjustable sizing dial," with 3D spatial sound and Hi-Res Audio Certified headphones, with support for third-party headphones. It adds that, "all Vive SteamVR ecosystem accessories will work with Vive Pro 2."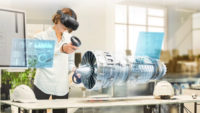 Vive Focus 3 (above) features a swappable, curved battery pack, which can be charged to 50 percent battery life in 30 minutes. It also offers a "wide range and fine-adjustable IPD … [as well as] open-back speakers featuring a pair of dual drivers, delivering immersive and true-to-life audio … [and uses] an AI-powered inside-out tracking algorithm for precise … with privacy addressed by storing all tracking data in an encrypted format on the headset."
Ars Technica reports that the Vive Focus 3 is priced at $1,300, $1,000 more than its rival the Oculus Quest 2, and the Vive Pro 2 "resembles the earlier model all too much while costing either $799 by itself or $1,399 for its 'full kit'." The reason, it explains, is that HTC is "full-speed ahead with a focus on business, enterprise, and public entertainment centers," rather than ordinary consumers.
O'Brien said the company has nothing new to say about its Vive Cosmos VR headsets, adding that "HTC wants to make its VR money from upfront purchase revenue, not from 'downstream' opportunities." Companies in manufacturing and training, he added, "can find the return-on-investment (ROI), their savings on efficiencies, and time to market, within six months of buying" Vive headsets.
Topics:
3D Spatial Sound
,
5K
,
AMD
,
Cher Wang
,
Dan O'Brien
,
DSC
,
Enterprise
,
Gaming
,
Hi-Res Audio Certified
,
HTC
,
HTC Vive
,
HTC Vive Cosmos
,
HTC Vive Focus 3
,
HTC Vive Pro 2
,
Inside-Out Tracking
,
IPD
,
Nvidia
,
Oculus Quest 2
,
RGB
,
SteamVR
,
Valve
,
Virtual Reality
,
Vive Business
,
ViveCon 2021
,
VR Headsets
,
VR Training