Yves Bergquist, director of ETC@USC's AI & Neuroscience in Media Project, described how ETC's task force is working in concert with SMPTE to develop standards for AI and machine learning (ML) in the media and entertainment industry. During the HPA Tech Retreat, Bergquist noted how the two organizations successfully collaborated to develop standards in digital cinema, interoperable media, and cloud production. "We thought it was an opportunity to step up and help the media community better understand the scope of the AI technology," he said.
Studies have shown that there's an urgency to developing such standards. Bergquist pointed out that 25 percent of organizations report over 50 percent failure rate in their AI initiatives. "AI is promising but it's an amorphous set of technologies," he said. Meanwhile, Deloitte polled 2,700 organizations and found that 50 percent of them report major shortages of AI talent. "There are a lot of challenges around data quality, formats, privacy, ontologies, and how to deploy AI/ML models in enterprise," said Bergquist.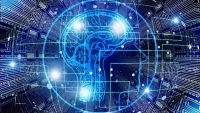 "AI/ML is experimental and expensive and there are duplications across the industry," he noted. "We think there are strong opportunities for interoperability throughout the media industry. Not everything has to be in the form of standards. We also want to share best practices." The ETC task force is made up of about 40 members across a wide range of companies, including studios such as Sony Pictures and WarnerMedia, technology companies such as Adobe and Broadcom and consulting firms such as Deloitte.
"We want to make recommendations about real standards but also create a dialogue, a more formal structure about its implementation," said Bergquist. "But we're also going beyond recommending standards to create a more formal mechanism to understand costs, failure points, technologies that are production proven vs. experimental." He added that a big challenge across all industries adopting AI/ML is to "create a culture of data and analytics."
"For many industries, it's a very new way of working," he said.
On March 30 and 31, ETC will hold a series of roundtables, developed with SMPTE and also open to SMPTE members, to collectively investigate the issues, focused on four topics: Data and Ontologies, AI Ethics, Platform Performance & Interoperability, and Organizational and Cultural Integration.
"That last topic is the most important and least understood challenge," said Bergquist. "It goes to the ability of an organization to create an awareness and understanding of what AI is and is not, how to interpret its output, how to understand the data." He concluded that the task force is "expecting to make a substantial contribution in the area of suggesting best practices in terms of creating a culture of analytics."
The results of the work will be published in a report that will be available in Q3 2021. Interested parties are encouraged to contact task force member, Broadcom associate technical director Frederick Walls (Frederick.Walls@Broadcom.com) or Bergquist (Yves@etcusc.org) for more information.