ETC's immersive media head Phil Lelyveld presented a session describing the organization's third Immersive Media Challenge — this one with a 5G twist. "The challenge is to ask students and recent graduates to come up with an idea for an engaging experience that is impossible to build now that should be possible to build in three to five years," he said. "It's not a hackathon. If you can build it in three to five years, you should probably start building it now. If it's longer than five years, it's Fantasyland."
Lelyveld said that he asks potential entrants to consider what happens when technology catches up to an idea that resonates with people, giving Facebook, "Fortnite," global K-Pop, and eSports as examples. He also asks them to think about what happens when an idea out of the blue — like the iPhone or digital influencers — is suddenly possible.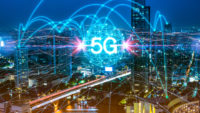 Entrants can come up with an idea that falls under four categories: City Play (city as location-based entertainment); For Good (social good, education); For Fun (dramatic, but with a twist that advances the art form) or For Health (medical resource for doctor or patient). Given the imminence of 5G, added Lelyveld, he also asks potential entrants to consider how their idea will be impacted by unlimited bandwidth and near-zero latency.
Students/recent graduates have to answer a six-question sequence and create a three-minute pitch video. "Narrative excellence about the idea matters," explained Lelyveld. The six questions include the title of the idea; a detailed description of the experience; what the creator is trying to achieve, which of the four categories it fits into and why it's worthwhile; why the experience will capture the imagination of audiences; what about the idea is unique and/or different from others available; what about the idea will make it likely to be able to created in three to five years and how the 5G rollout impact the idea; and, lastly, why the assumptions are reasonable.
"Why is it Tomorrowland and not Fantasyland," noted Lelyveld, who added that students and recent grads who submit to the program come out of varied academic backgrounds, including cinema, architecture, business, engineering and journalism.
Lelyveld explained that students have one week to come up with the idea and ETC member companies can decide whether they want to mentor one of the projects. With more than 50 ideas generated from three challenges, Lelyveld said ETC is "looking for mentors, resources and sponsors to spur new thinking."
He also played the pitch videos for two projects that were chosen. USC Marshall School of Business MBA student Tucker Elliott pitched Flight of Persephone, which creates AI-enabled reuseable escape rooms. Engineering student Tracy Keys proposed AuVive, contextualized descriptive audio for video for the visually impaired, relying on deep learning and neural net narration. Creators of the four chosen ideas get money to create a previsualization and are paired with ETC member industry mentors.
Topics:
5G
,
AuVive
,
Bandwidth
,
Deep Learning
,
Digital Influencer
,
Escape Room
,
eSports
,
ETC@USC
,
Facebook
,
Flight of Persephone
,
Fortnite
,
HPA Tech Retreat
,
Immersive Media Challenge
,
iPhone
,
K-Pop
,
Location-Based Entertainment
,
Neural Network
,
Phil Lelyveld
,
Tracy Keys
,
Tucker Elliott
,
USC Marshall School of Business
,
Zero Latency