Drone maker DJI just introduced its Osmo Action, a camera that some say will give GoPro a run for its money. Among its strong points, the Osmo Action shoots 4K at 60 fps and 1080p at 240 fps. It offers good electronic image stabilization and a front LCD screen that lets the users double-check framing, which comes in handy when the camera is mounted to a bike frame or vehicle, obscuring the 16×9 LCD rear screen. It also offers a replaceable lens cover to easily add filters. Its form factor and user interface mimics that of the GoPro.
Digital Trends reports, "DJI didn't set out to reinvent the wheel," but rather "borrowed what could be borrowed and innovated where there was room for improvement." The Osmo Action, it concludes, "doesn't stand out from the pack, but brings serious value to the table for just $349 — $50 less than the GoPro Hero7 Black." In addition to its touchscreen/gesture commands interface, which is "a near facsimile of GoPro's," the Osmo Action also uses "the standard GoPro mount, making it compatible with a wide range of accessories."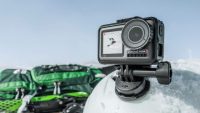 DT's reviewer describes the new camera as "a palm-sized rectangular box that is waterproof down to 36 feet without a case." The 1.4-inch front-facing LCD screen offers a 1:1 aspect ratio, and the back of the camera "is dominated by a large, 2.25-inch touchscreen with a 16:9 ratio," which is wider than GoPro's. Although the front-facing camera's aspect ratio is "a bit weird," it does allow the user to preview her shot in letterbox or full-screen mode.
The touch interface, DT says, does "a good job of imitating what GoPro is best at… [and] the user interface will immediately feel familiar to anyone who has used a GoPro Hero5 or newer." But the Osmo Action remote control, via the DJI Mimo app, "falls behind the GoPro" version.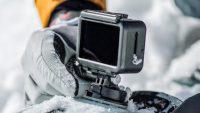 The reviewer approves of the Osmo Action's screw-on lens filters, which are a "far less labor-intensive approach than GoPro's finicky bayonet-mount lens cover on the Hero5 and newer cameras." Because the screw-mount isn't proprietary, third-party manufacturers are likely to add new compatible filters to the collection of already-existing ones.
The Osmo Action also offers HDR, and its RockSteady electronic image stabilization provides "gimbal-like stabilization for handheld shots and maintain[s] a perfectly flat horizon when panning." Although the lens "produces an insane amount of distortion," that can be corrected in-camera via Dewarp. One problem is that RockSteady crops the image, losing angle-of-view and resolution due to softening of the image: "Just don't expect a flawless image if you view your antics on a 65-inch 4K television."
The conclusion is that the Osmo Action isn't "a huge step forward" over the GoPro Hero7 Black, despite its "slight edge in the UI department, and a much more noticeable edge with its mobile app." "Overall, this is a very capable action camera," says the reviewer. "We only wish the Mimo app was better."
The Verge also reviewed the Osmo Action here.
Topics:
1080p
,
4K
,
Action Cam
,
App
,
Camera
,
Dewarp
,
DJI
,
DJI Mimo
,
DJI Osmo Action
,
Drone
,
Electronic Image Stabilization
,
Filter
,
Gesture Control
,
GoPro
,
GoPro Hero5
,
GoPro Hero7 Black
,
HDR
,
LCD
,
Mobile
,
Osmo Action
,
Remote Control
,
RockSteady
,
Touchscreen
,
User Interface
,
Video