Enhanced security designed to protect scripts is becoming a standard procedure in Hollywood. Filmmakers do not simply worry about piracy, but also about a script being posted online for people to prematurely lambast, potentially compromising success. The strict security measures apply to everyone, and even Hollywood veterans are subject to intense scrutiny before they are permitted to read a script about a potential blockbuster or the sequel to a smash hit.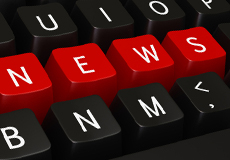 "It's like the NSA these days," said Lynda Obst, a producer whose 30-year filmography includes "Flashdance," "Sleepless in Seattle," and "How to Lose a Guy in 10 Days." Obst is a producer on Christopher Nolan's "Interstellar," but has not commented on the film's security procedures.
"Mr. Nolan isn't the only filmmaker whose scripts are guarded like nuclear launch codes," reports The Wall Street Journal. "To read J.J. Abrams's summer sequel 'Star Trek Into Darkness,' cast members had to visit his Bad Robot Productions, housed in a brick building in Santa Monica, marked only by a sign that says 'The National Typewriter Company.'"
"Security has just gone through the roof for every movie," said Chase Michaels, chief financial officer of Los Angeles courier service 24/7 Delivers Inc.
His company formerly delivered 300 scripts per week for studios such as NBCUniversal and Paramount Pictures. This number has been drastically reduced as a result of studios using digital tools.
"One common practice is a digital watermark on a PDF of a script, which typically contains the name of the person to whom it was given and shows up when it is scanned or copied. DreamWorks SKG regularly does so because screenplays are 'blueprints' for the final film," said the independent studio's chief executive Stacey Snider. "They evolve while they're being shot and we hate to have people think they are getting the whole picture."
The script for the WikiLeaks movie was posted on the WikiLeaks site and no watermark was evident. A spokesperson for WikiLeaks declined to comment.
"Legendary Pictures LLC, the company behind this summer's monster movie 'Pacific Rim' and a coming film adaptation of the hit videogame 'Warcraft' makes anyone authorized to read one of its scripts purchase a special iPad app that allows them to view it for a only few hours before the digital document, like a 'Mission Impossible' assignment, self-destructs," reports WSJ.
Since the 1980s, filmmakers have used code names to help protect their scripts. "Back to the Future Part II" was called "Paradox" while "Return of the Jedi" was code-named "Blue Harvest." This process is still in place today.
"The new security measures have become common thanks to the Internet and the rabid movie-fan culture that has sprung up on it. An early sign of its power came in 2002 when a script for a new Superman movie written by Mr. Abrams was leaked to fan website Ain't It Cool News and eviscerated by a reviewer with the headline, 'You'll believe a franchise can suck!!' That version of the movie was never produced," reports WSJ.
Topics:
Abrams
,
Ain't It Cool
,
Bad Robot
,
Blockbuster
,
California
,
Copyright
,
DreamWorks
,
Film
,
Filmmaker
,
Game
,
Hollywood
,
iPad
,
LA
,
Legendary
,
Michaels
,
Motion Picture
,
Movie
,
NBCUniversal
,
Nolan
,
NSA
,
Obst
,
Paramount
,
Piracy
,
Pirate
,
Producer
,
Screenplay
,
Script
,
Secure
,
Security
,
Sequel
,
Snider
,
Studio
,
Trend
,
Videogame
,
Watermark
,
WikiLeaks