Sony's new flagship Android phone, the $650 Xperia Z1, is now available in the U.S. The 5-inch phone features a massive 20.7-megapixel camera and can attach additional lenses. The company is also introducing its 6.4-inch Xperia Z Ultra, with a 4G LTE option, and its $200 SmartWatch 2 this week. The SmartWatch 2 will compete with Samsung's Galaxy Gear, the Pebble, Qualcomm's Toq and a slate of new wearable devices expected to launch soon.
The Xperia Z1 is available through Sony's online store for $649.99 — but it currently comes with HSPA+ only, and does not feature LTE connectivity.
"For the real 4G stuff, you'll have to spend $679.99, which is the unlocked price for the 6.4-inch Xperia Z Ultra's LTE model," reports The Verge. "Or if you don't need fast mobile speeds, you can save yourself 30 bucks with the $649.99 HSPA+ variant. Both devices are available now from select Sony stores and online retailers in a choice of black, white, or purple."
Sony's SmartWatch 2 starts at $199.99, less than the $300 Galaxy Gear, which currently only works with the Galaxy Note 3 phone. The SmartWatch measures 42 x 41 x 9mm and weighs only 122.5g.
"One of the big trump cards for the SmartWatch 2 is the fact it's compatible with any Android smartphone running version 4.0 (Ice Cream Sandwich) and above, meaning you don't have to fork out for a specific Sony phone for it to work," writes TechRadar in its review. "The SmartWatch 2 carries an IP57 certificate, meaning it will happily last up to 30 minutes in fresh water up to a depth of 1 metre — plus it also means it's dustproof, too."
"Unlike the Gear, however, Sony's watch doesn't let you make phone calls directly through the wristwatch," notes ABC News. "You can answer calls using the watch, but you need a Bluetooth wireless headset linked to the phone if you don't want to hold it to your ear."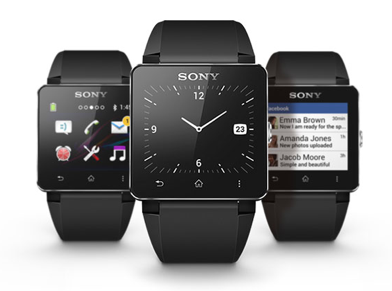 The SmartWatch features a 1.6-inch Transflective LCD display and covered microUSB port.
"The average smartphone user reaches for their device more than 100 times per day to check text messages, read emails and social network notifications and of course, to check the time," said Ravi Nookala, U.S. president of Sony Mobile Communications. "SmartWatch 2 makes these core tasks easier, and does much more with apps available, for everything from productivity to fitness and games."
"If you are absolutely desperate for a smartwatch then we would recommend the Sony SmartWatch 2 over the likes of the Pebble, Qualcomm Toq and Samsung Galaxy Gear, but if you're not really bothered then we'd advise to steer clear," concludes the extensive TechRadar review. "The SmartWatch 2 still feels a little half baked. There are some interesting functions such as the camera extension, and the idea of getting notifications and messages on your wrist is cool. But it's the sluggish interface and poor implementation of core apps which ultimately let the SmartWatch 2 down."
Topics:
4G
,
Android
,
App
,
Bluetooth
,
Camera
,
Display
,
dustproof
,
Galaxy Gear
,
Galaxy Note
,
HSPA
,
Ice Cream
,
ICS
,
IP57
,
LCD
,
LTE
,
microUSB
,
Mobile
,
Pebble
,
Phone
,
Qualcomm
,
Samsung
,
Sandwich
,
Smartphone
,
Smartwatch
,
SmartWatch 2
,
Sony
,
Toq
,
Transflective
,
Ultra
,
USB
,
Variant
,
Watch
,
Waterproof
,
Wearable
,
Wireless
,
Xperia
,
Z1