GoPro just released a more affordable camera at a price point of $199 aimed at a younger audience and action-video newcomers. Simply called "Hero," the camera looks just like other models in the Hero line and works with all of the same accessories, but it's a simplified version. "While it doesn't have all of the advanced features of the $399 Hero6 or the $299 Hero5, the new Hero does have many of them, making it an excellent budget choice for those eager to start playing with action cameras," reports Wired.
Those features include shooting HD video at 1440p and 1080p at 60 frames per second. "It also shoots 10-megapixel stills and has an electronic video stabilization system," adds Wired. Users will also get a "2-inch touch display, voice controls for starting and stopping a recording, and waterproofing that's good down to 30 feet."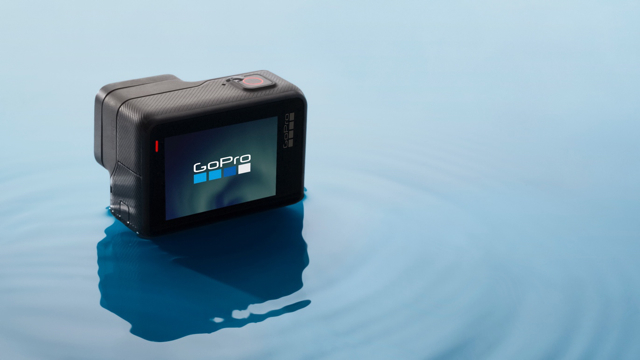 Additionally, the Hero camera is built to work with GoPro's smartphone apps so videos can be transferred and edited easily and on-the-spot.
The Hero can't deliver the same high-quality, slow-motion shots that the Hero5 and Hero6 can, and it lacks the same level of optical image stabilization capabilities. But it's a possible entry-point for those interested in the action camera world — and it comes at a good time for the once seemingly untouchable camera company.
"This release arrives at a time when GoPro's once tumescent halo has faded. Not long ago, the U.S. manufacturer held the entire action camera market in its brutally dominant grip. But in the last two years, competitors have nibbled away at its market share," reports Wired.
The company's stock has gone from around $80 a share in 2014 to around $5 now. In large part, this dramatic drop has been due to the increasingly high quality of smartphone cameras, as well as to Asian manufacturers that have "released dozens of copycat action cams at prices that comically undercut GoPro's — some feature-for-feature matches of Hero cameras sell for less than half the price of a GoPro."
Perhaps the Hero is meant to compete on that level, writes Wired, noting that GoPro may be trying to meet "the Chinese competitors in their price bracket with a brand pedigree and name recognition the imitators can't match."
Topics:
1080p
,
1440p
,
Action Cam
,
Action Cam
,
App
,
Asia
,
Camera
,
China
,
Extreme Sports
,
GoPro
,
GoPro Hero
,
HD
,
Hero
,
Hero2
,
Hero3
,
Hero5
,
Hero6
,
Image Stabilization
,
Mobile
,
Optical Image Stabilization
,
Photo
,
Photography
,
Smartphone
,
Video
,
Waterproof