Alphabet's Google continues on a path of global dominance, announcing during CES 2022 earlier this month that the total number of monthly active Android TV devices has grown to 110 million in the world. Since May alone, 30 million devices were added, a growing number of them featuring the company's new Google TV platform, with TCL reporting that it is moving about 10 million television sets a year with the Google TV interface. Seven of the world's top 10 smart TV OEMs are currently using a Google UI on their TVs, according to Google TV director of product management Rob Caruso.
In an interview with Caruso, Protocol reports "Google now has 250 device partners worldwide, including 170 operator partners," noting that the majority still use "plain old Android TV, or Android TV customized by operators." But Google TV seems to be gaining ground.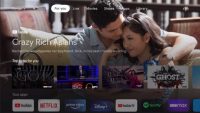 At CES in Las Vegas, TCL announced it as the OS for its new flagship TV, the X925 Pro. Both Android TV and Google TV support the Google Voice Assistant, enabling hands-free "Hey Google" voice commands, and both support Chromecast. Lifewire says Google TV emphasizes content over apps, offers individual user profiles, and has "a renewed focus on live TV content."
The tech blog Tom's Guide describes Google TV as "a slicker, more intuitive, more capable operating system for your smart TV, bringing more capability to TVs and seating smart TVs more firmly at the center of the Google ecosystem," ultimately conceding "it's more of a rebranding, since the underlying software is still Android."
Caruso told Protocol that "over time, our bet and desire is that the Google TV experience will be the preferred choice for us and our partners," but Android TV "is still out there and … still supported."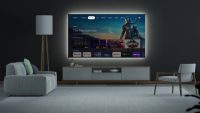 Protocol says Google TV is offering custom UIs and wants "to work more closely with content providers," particularly on search and discovery. But that requires "buy-in from content providers," who "haven't always played ball." One example: Netflix still doesn't let people add movies or shows to Google TV's system-wide watchlist. Caruso joined Google from Netflix in August, Protocol points out, quoting his promise that "things will get better" across a spectrum of partners.
In his interview, Caruso emphasized fitness collaborations. "With Google's investment in Fitbit, it's no surprise to see Google eyeing a fitness integration for Google TV," writes Gizmodo, wondering how sizzly Google TV needs to be ("maybe it'll turn out that all it needs to keep users tuned in is to be the best damn search engine for couch potatoes").
The company is forging stronger connectivity within the smart home ecosystem, signing on with Matter and debuting Fast Pair for one-click connectivity between Android phones and Bluetooth-enabled devices, including TVs. Caruso hinted to Protocol there may be new Google TV features to announce at "some point later this year."
Topics:
Alphabet
,
Android TV
,
App
,
Bluetooth
,
CES 2022
,
Chromecast
,
CTA
,
Discovery
,
Fast Pair
,
Fitbit
,
Google
,
Google TV
,
Interface
,
Las Vegas
,
Live TV
,
Matter
,
Netflix
,
OEM
,
Rob Caruso
,
Search
,
Search Engine
,
Smart TV
,
TCL
,
TCL X925 Pro
,
Television
,
User Interface
,
Voice Assistant