Taiwan Semiconductor Manufacturing Company (TSMC) says it will increase production capacity by up to 47 percent for 2022 as demand continues to surge amid a global chip shortage. To support the increase and technology upgrades, the world's largest contract chipmaker plans to set a company record for capital expenditure in 2022, with spending at $40-44 billion (compared to $30 billion in 2021). Speaking at an investor conference, company CFO Wendell Huang said about 70-80 percent of the 2022 capex will fund development of advanced 2nm, 3nm, 5nm and 7nm processors as TSMC fights to maintain its dominant market share while rivals step up.
In Q3 2021, TSMC had a market share of just over 53 percent in the global semiconductor foundry market, according to Statista, which tracked second-place Samsung at 17.1 percent. Nasdaq says TSMC's revenue for the quarter was $14.88 billion.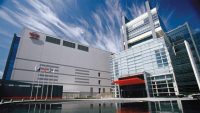 Statista points out that the top 10 semiconductor foundries generated more than $27 billion in global revenue for Q3 2021. Taiwan, China, South Korea, Israel and Germany were represented in the top 10. The U.S. was not, but Samsung has since 1997 operated a foundry in Austin and breaks ground on a new plant in Taylor, Texas where chip production is expected to start in late 2024.
Statista explains that the semiconductor supply chain is "categorized into roughly three distinct stages: design, fabrication, and assembly. Companies that perform all three of these steps are referred to as integrated device manufacturers (IDMs), with examples including Intel and Samsung." Firms like Nvidia that design their own chips but rely on foundries to make them are known as "fabless" chipmakers.
In December, Bloomberg reported that Intel — which in terms of volume falls into Statista's "other" category — "is budgeting as much as $28 billion for new plants and equipment in 2022," including a new foundry in Germany. That's up from roughly $18 billion" in 2021, when it broke ground on two new plants in Chandler, Arizona, as it "plans to shift its business model to become a manufacturer, or foundry, for other chip designers, in addition to continuing to design and manufacture its own processors," according to CNBC.
In March, TSMC announced plans for a $12 billion complex in Phoenix. The three new Arizona plants are also expected to open in 2024.
"TSMC, Samsung and Intel — three of the world's biggest chipmakers—accounted for nearly three-fifths of $146 billion that semiconductor companies around the world spent in 2021 to build new production capacity and develop new technologies," writes The Wall Street Journal, citing Gartner research.
Roughly half of TSMC's chip sales are in the advanced technology semiconductor category for clients including Apple. "TSMC is now increasing investments into capacities to build less-advanced chips based on older production technologies" for use in cars, smartphones and other devices, WSJ reports.
In addition to Phoenix, TSMC is building a $7 billion plant in Japan and plans to expand capacity in Nanjing, China, as well as in Taiwan, WSJ writes. "Intel and Samsung are going to have a hard time keeping up with the sheer scale that TSMC is planning for," Dylan Patel of SemiAnalysis said in a research note.
Topics:
Apple
,
Arizona
,
Austin
,
Car
,
Chandler
,
China
,
Chip
,
Dylan Patel
,
Gartner
,
Germany
,
IDMs
,
Intel
,
Israel
,
Japan
,
Nanjing
,
Nasdaq
,
Nvidia
,
Phoenix
,
Samsung
,
SemiAnalysis
,
Semiconductor
,
Smartphone
,
South Korea
,
Statista
,
Taiwan
,
Taylor
,
Texas
,
TSMC
,
Wendell Huang