In the wake of a last week's ruling that the Federal Trade Commission can prosecute its antitrust suit against Meta Platforms, it is now reported that the FTC and multiple state attorneys general are scrutinizing the company's virtual reality unit — formerly known as Oculus Quest but renamed Meta Quest — for potential anti-competitive practices. New York, North Carolina and Tennessee are among the states that, in addition to the FTC, are said to be investigating whether the Meta Quest app store discriminates against app developers whose goods compete against Meta's own products.
"Developers have complained that Meta uses its market power to thwart companies that offer competing games and services on Oculus. They allege the company copies the most promising ideas and makes it harder for some apps to work properly on the platform," reports Bloomberg.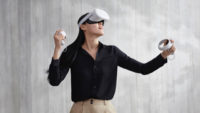 The article cites examples including YUR Inc., which "released an Oculus fitness tracking app in 2019 only to lose traction when Meta subsequently released a software update that prevented the technology from working within games," then launched Oculus Move, which offered similar functionality.
Likewise, a virtual desktop app that enabled PC content to stream to a VR headset was reportedly thwarted by Meta when in 2019 developer Guy Godin "added a feature that lets users stream PC games to the Oculus Quest. Meta threatened to remove his app if that feature wasn't removed. Soon after, Meta launched Oculus Link with similar functionality."
On January 11, the U.S. District Court for the District of Columbia ruled the FTC could proceed with an amended FTC complaint filed against Meta in August that "seeks to unwind the company's acquisitions of WhatsApp and Instagram," according to Bloomberg, alleging the social media giant "eliminates competitors by buying them."
Meta purchased Oculus in 2014 for $2 billion. In November Meta announced its purchase of Within, the Los Angeles-based startup behind the VR workout app Supernatural, wrote Quartz, reporting the deal as the company's "fifth VR acquisition in the past three years."
"Today, Oculus dominates the standalone virtual reality headset space," writes Bloomberg, noting "the company's headsets made up 75 percent of global shipments of VR headsets in the first quarter of 2021, up from 34 percent in the period the year prior, according to Counterpoint Research."
The same court that ruled the FTC's amended Meta antitrust suit could proceed dismissed in June a similar antitrust case against Meta brought by 48 attorneys general for failing to file within the statute of limitations. The Bloomberg report indicates at least some of those AGs may plan to refresh their timelines with VR infractions for another go at Meta.