Google has opened a public waitlist for its Bard AI chatbot to users in the U.S. and UK. The technology, which Google intends to compete with OpenAI's ChatGPT, will be made available to increments of users on a rolling basis, the company said, with more countries and languages to come. Bard was announced last month. Powered by a lightweight, optimized version of Google's LaMDA large language model, the company calls it an "early experiment" that will eventually be updated with more sophisticated models. The same can be said for ChatGPT, which already has more than 100 million users.
While Google still trails OpenAI and Microsoft — which made the GTP-powered Bing AI Copilot available for anyone to use beginning last week, according to Windows Central — the Bard waitlist was generally well-received.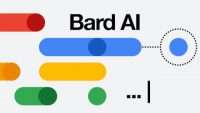 "Google has been slower than its rivals to release competing products, partly out of caution for how they could affect its dominant and lucrative search-advertising business," reports The Wall Street Journal, noting that unlike Microsoft, Alphabet has stopped short of integrating Bard into its flagship Google search engine. Early users will be able to access it only from a dedicated site, bard.google.com.
In a blog post announcing the waitlist, the company emphasized Bard is "grounded in Google's understanding of quality information," while setting realistic expectations with the warning that because they train on large quantities of web data, some of it imperfect, "large language models will not always get it right," and feedback from this early phase will help it improve.
"The new technology has displayed growing pains," WSJ writes, although that hasn't stopped competitors like China's Baidu from launching a chatbot named Ernie this month. Startups like Neeva and Humane have also staked out positions.
The Bard release represents "a significant step to stave off a threat to Google's most lucrative business, its search engine," writes The New York Times, adding that "many in the tech industry believe that Google — more than any other Big Tech company — has a lot to lose and to gain from AI, which could help a range of Google products become more useful, but could also help other companies cut into Google's huge Internet search business."
Google has more than 20 AI products in the works, some announced last fall. The company has been testing the underlying Bard technology since 2015, but has only made the technology available to a very small pool of early testers "because, like the chatbots offered by OpenAI and Microsoft, it does not always generate trustworthy information and can show bias against women and people of color."
That being the case, Bard is still "more cautious than ChatGPT," writes The New York Times in an explainer about "what Google Bard can do (and what it can't)."