When Google debuted its Stadia cloud gaming service in November of last year, players had one choice: Stadia Pro, priced at $10 per month. But the company had stated it would unveil two tiers of service, and it appears to be on the verge of introducing its free tier, as well as a player limit and YouTube live streaming. Google Stadia has not revealed a launch date for the potential free tier, which was found in the code of its version 2.7 update. Also revealed in the code is a new option to sign up without a paid code.
Digital Trends reports that, "currently, people can only sign up for the service through a code received when purchasing the Founder's Edition or Premiere Edition, or from a gifted Buddy Pass." The code in the update "revealed that Stadia Base members will also be offered a free one-month trial for Stadia Pro." The code, which was unearthed by 9to5Google, is ready to handle a massive influx of new gamers by limiting the number of free accounts "registered in an area," although it does not define the boundaries of an "area."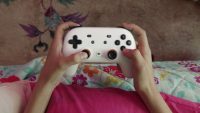 9to5Google notes that, "the free tier Stadia Base is launching sometime this year," and that "once you've got a free account registered, it appears Google may offer for you to try Stadia Pro for free for one month."
"This is perfect for those who aren't sure if their connection can handle Stadia and don't want to spend money testing it," it adds. With regard to the limit of free players in each area, it says that, "we're not sure whether this means your local area such as your nearest Google Cloud data center, or something more broad such the country you live in … [but] thankfully, it seems that even once the capacity has been reached, you'll still be able to register if you have a Stadia code."
The code also revealed that a Pro Pass "could be a way to buy your way into Stadia Pro without buying any hardware," but that is unclear since this option is only mentioned once. The addition of YouTube live streaming is "the most exciting feature" for current players and something that "was promised all the way back at GDC 2019 nearly a year ago."
With "new strings for buttons and menus to start streaming our Stadia gameplay to YouTube," the user will "also be able to control the name of [her] Stadia stream, its visibility on YouTube, and whether or not to display your current viewer count."
9to5Google also confirmed that, "at least when it launches, Stadia's family sharing will only allow one player to enjoy a particular game at a time … [which] lines up with the family sharing capabilities on platforms like Steam." Captures will be improved with a "download" button for saving favorite screenshots and videos to their devices, and "captures will soon be accessible on the web."
The latest version of Stadia is beginning its launch in the Google Play Store.