Google TV is working on an app that will let users cast content from multiple streaming services to a central TV or display. A new "central casting" button announced at the Google I/O developer conference will later this year allow the Google TV app on Android phones or tablets to send content from a variety of different streaming services to your TV through a single app. The Alphabet unit also updated statistics for its Android TV ecosystem, detailing 110 million monthly active devices using the Android TV OS, which includes Google TV. That's an increase from 2021's 80 million monthly active devices.
Google noted that the Android TV OS now includes more than 10,000 apps. Google has since 2020 been overhauling its connected TV experience through introduction of the Google TV interface for Chromecast streaming devices.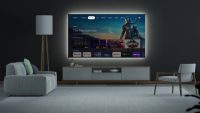 "It also applied the Google TV name to the app that was previously known as the Google Play Movies & TV app," writes TechCrunch, noting that earlier this year Google removed the "Movies & TV" section from the Play Store, pointing users to the Google TV app as "the centralized place to buy, rent and watch movies and TV shows on mobile devices," TechCrunch writes.
The example used to demo the new Google TV casting functionality was Peacock's "Bel-Air" reboot. "On opening up the show's listing on the Google TV app, a button appears to allow users to cast an episode to their TV" instantly upon tapping, reports 9to5Google. "It doesn't open the Peacock app on your phone, and the targeted TV immediately jumps into playback."
However, 9to5Google notes, "there are some details that remain unclear. Google wasn't able to provide us with a list of apps that will support this level of integration, but some stubborn streaming, like Netflix, probably won't adopt this. Still, it's a fascinating and potentially useful feature."
"Of course, the Android TV OS is not a direct equivalent to something like Roku or Amazon Fire TV, as it's not only used on the company's first-party devices, like Chromecast," explains TechCrunch. Google's approach is "to license the platform to partners, including TV OEMs and pay-TV operators worldwide."
Google also showcased new developer features and tools that leverage Android 13 to improve the Android TV experience. These include AudioManager, MediaSession, InputDevice API, Picture-in-Picture (PIP) API, and more. TechCrunch calls the PIP API "particularly interesting as it could introduce more co-watching functionality across the Android TV ecosystem, following Apple's introduction of SharePlay, which allows co-watching over FaceTime across platforms, including Apple TV."