This week, Google began rolling out a video game and app subscription service, Play Pass, with 350 games and apps, priced at $4.99 per month. The service first debuted on Android devices in the U.S. and will be unveiled in additional countries over the next few months. Google is also readying Stadia, a streaming video game service for big-budget titles. Play Pass arrives just a few days after Apple unveiled Apple Arcade, with over 100 games — most of them exclusives — at the same monthly price.
The Wall Street Journal notes that none of the Play Pass games are exclusive although they are available without ads. Users can also buy the games without subscribing.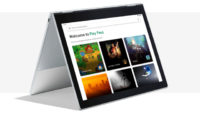 Google group product manager Austin Shoemaker stated that Play Pass gives users and developers more choice — the former in how they pay for content, and the latter in how they monetize it. About two-thirds of the Play Pass apps are games — "the rest cover a range of topics, including fitness, weather, productivity and education."
The mobile game market, which both Apple and Google are targeting, "accounts for the largest slice of the game-software industry's more than $150 billion in annual sales." But Stephens analyst Jeff Cohen noted that "consumers actually like the business model as it's currently constructed," with the vast majority choosing to watch video advertisements "in exchange for virtual perks."
Both companies are also providing an alternative to so-called loot boxes, in which "players receive a blind assortment of mostly common virtual goods, making rare items highly desirable." Legislators and others make the case that loot boxes are akin to gambling and are cracking down.
Wired takes a deeper look at Apple Arcade, which it says is a good deal for consumers and developers, especially since "the existing mobile gaming ecosystem is … a disaster, inflated with bloatware and drowning in exploitative design tactics."
But Wired also muses on the value of a video game in a world in which game subscription services flourish. For big-budget games, the value is about $60, a price that is unlikely to erode via "cheaper subscription services." When it comes to the smaller titles, however, the answer is trickier, first because "there's already a significant amount of instability in the pricing of independent games in today's market." The advent of curated services reduces the value of each game to "a fraction of a monthly subscription fee."
Wired suggests that "we, as consumers, need to be mindful of who is and isn't getting paid when we sign up for Apple Arcade and Xbox Games Pass." "Will this monthly fee allow the developers making games we love to continue to exist? And if this won't, what will?" If we don't pay attention, it adds, "the space for viable and interesting indie games to exist might get a lot smaller sometime soon."