While the much-anticipated unveiling of the $1,799 Pixel Fold is generating headlines after yesterday's Google I/O developer conference, the company made a slew of other announcements, including the $500 Pixel Tablet, the midrange Pixel 7A, AI functionality for Google Search and Android, an AI-powered editing feature for Google Photos, an improved Wear OS 4 (available later this year), and a redesigned Google Home app (available today). In addition, the company announced that its AI-powered chatbot Bard is now available to everyone, whether you were on the waitlist or not. We've compiled a helpful list of new products and features, along with links to reviews and related news.
The Pixel Fold is Google's $1,800 Entry into Folding Phones
The Verge, 5/10/23
Google is taking on Samsung in the folding phone space with its $1,799 Pixel Fold (below), available now for pre-order and shipping in June. According to Google, the device folds in half, providing users with the best of a 5.8-inch smartphone and a small 7.6-inch tablet. Both screens feature OLED panels with 120Hz refresh rates, and the device touts five cameras, including the 48-megapixel optically-stabilized main camera.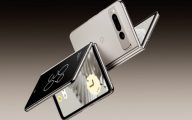 Google's New Pixel Tablet Is a $500 Slate for the Home
The Verge, 5/10/23
After a year of teasing and speculation, Google officially unveiled its $499 Pixel Tablet (below). Pre-orders began yesterday, and the device will ship starting June 20. The tablet — designed primarily for watching video and playing games — features an 11-inch, 16:10, 2560×1600 LCD display and a magnetic speaker dock. While docked to the speaker, the Pixel Tablet charges and can display a slideshow from Google Photos. It also provides quick access to the Google Home app for voice commands and controlling smart home devices.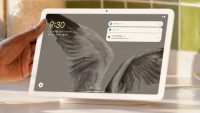 Related:
Google Pixel Tablet Hands-On: Docked and Loaded, Tom's Guide, 5/11/23
Google Gives Android Tablets Yet Another Shot with the $499 Pixel Tablet, Engadget, 5/10/23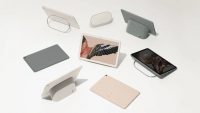 Google Says Search Enters New Era with Conversational AI Features
The Wall Street Journal, 5/10/23
Google introduced new conversational features for its search engine, which the company describes as its Search Generative Experience, in which AI programs offer summaries in response to user queries, also inviting follow-up questions. The unveiling — in addition to the wide release of Bard for English speakers — joined a collection of AI announcements that shows Google is looking to compete with the Microsoft-backed OpenAI and other contenders in the AI space, especially as it reaches into search and online advertising. Bard is now available in more than 180 countries and territories, while the company says it will support 40 languages in the near future.
Related:
Google Drops Waitlist for AI Chatbot Bard and Announces Oodles of New Features, The Verge, 5/10/23
Google Launches a Smarter Bard, TechCrunch, 5/10/23
Google Launches PaLM 2, Its Next-Gen Large Language Model, TechCrunch, 5/10/23
Google's New Image Search Tools Could Help You Identify AI-Generated Fakes, The Verge, 5/10/23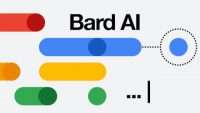 Google Rebrands AI Tools for Docs and Gmail as Duet AI
The Verge, 5/10/23
As part of its response to Microsoft's Copilot, Google is developing generative AI integration for productivity apps such as Docs, Gmail, Sheets and Slides. Still in development, the Duet AI tools are the next step to the company's recent introduction of AI features to its Workspace suite of apps. During its keynote, Google emphasized Duet AI applications for Workspace and Google Cloud. The company also teased "Sidekick," designed to read, summarize, and respond to queries across various Google apps.
Related:
Google Launches a GitHub Copilot Competitor, TechCrunch, 5/10/23
Google Brings New Generative Models to Vertex AI, Including Imagen, TechCrunch, 5/10/23
Google Photos to Gain a New 'Magic Editor' Feature Powered by Generative AI
TechCrunch, 5/10/23
Google Photos is turning to AI to expand the collection of tools it provides users for editing and enhancing images. The company offered a demo during Google I/O that showed how Magic Editor will use AI techniques such as generative AI for more complex editing and reimaging tasks. The new feature is initially slated to become available for select Pixel devices, but the company did not specify which devices.
Related:
Google Partners with Adobe to Bring Art Generation to Bard, TechCrunch, 5/10/23
Google Is Incorporating Adobe's Firefly AI Image Generator into Bard, Engadget, 5/10/23
Videos from Google I/O 2023:
Google Keynote: Tune in to find out how we're furthering our mission to organize the world's information and make it universally accessible and useful.
Developer Keynote: Learn about Google's developer products, solutions, and technology and see what we're doing to help you build smarter and ship faster.
Recap Video: Google I/O 2023 in under 10 minutes.
Additional Articles:
Google Launches AI Supercomputer Powered by Nvidia H100 GPUs, Tom's Hardware, 5/10/23
Android's New Generative AI Can Reply to Your Texts and Design Its Own Wallpaper, The Verge, 5/10/23
Google Messages Gaining AI-Based 'Magic Compose', 9to5Google, 5/10/23
Google Brings AI and More to the Play Store, TechCrunch, 5/10/23
Google Play Developers Will Be Able to Push You to Update Your Apps, TechCrunch, 5/10/23
Google's Latest Project Starline Prototype Uses AI to Make 3D Images of People, TechCrunch, 5/10/23
Google Launches ML Hub to Help AI Developers Train and Deploy Their Models, TechCrunch, 5/10/23
Google Pixel 7A Review: A Better Deal, The Verge, 5/10/23
Google Makes Its Text-to-Music AI Public, TechCrunch, 5/10/23
Google Maps Is Getting a New 'Immersive View for Routes' Feature, TechCrunch, 5/10/23
Google's Firebase Gets AI Extensions, Opens Up Its Marketplace, TechCrunch, 5/10/23
Google Is Bringing YouTube to More Cars, Starting with Polestar, TechCrunch, 5/10/23
Google Adding Cisco, Microsoft and Zoom (Audio) Conferencing to Android Auto, TechCrunch, 5/10/23
Wear OS 4 Is Coming and Bringing Better Battery Life Along with It, The Verge, 5/10/23
Topics:
Android
,
App
,
Artificial Intelligence
,
Bard
,
Chatbot
,
Cisco
,
Duet AI
,
Editing
,
Firebase
,
Gmail
,
Google
,
Google Home
,
Google I/O
,
Google Maps
,
Google Photos
,
Google Search
,
Imagen
,
Magic Editor
,
Microsoft
,
Mobile
,
Nvidia
,
OLED
,
OpenAI
,
PaLM 2
,
Pixel 7A
,
Pixel Fold
,
Pixel Tablet
,
Play Store
,
Polestar
,
Samsung
,
Smartphone
,
Tablet
,
Vertex AI
,
Wear OS4
,
Zoom