Charles and Kai Huang, co-founders of RedOctane ("Guitar Hero"), have teamed with Coleman Fung, founder of OpenLink, to form interactive fitness startup Blue Goji. The company recently launched Goji Play, a $99 set of exercise equipment-friendly game controllers with velcro straps, that encourages users to play games while working out on a treadmill, elliptical machine or stationary bike. An activity tracker measures how quickly you're moving, and powers game characters.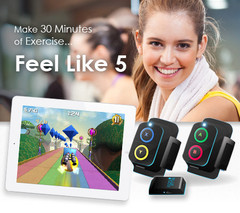 "What you'll need is an iPad, iPod Touch or an iPhone," reports TechCrunch. "On those devices, you can access Goji Play's library of games, which are takes on classic genres like boxing, through the Goji Play app. While you're running on a treadmill, you can hold the two controllers and speed a ball down a runway or knock out a boxing rival."
"The idea is to prop up an iPad or an iPhone on your favorite cardio equipment and fire up one of the games," notes PCMag.com. "When you start to work out, the activity tracker senses your motion and sends it to the iOS device via Bluetooth. Your motion controls something in the game, such as a character's speed or the amount of power your character has. The handheld controllers have only two buttons each, which means that all the games are pretty simple to play."
The Goji system currently has 12 games. There is also a Goji Reader app, for scrolling through content and news using the game controllers, rather than swiping an iPad or holding a book while exercising.
"One of the things we learned back in our days working on 'Guitar Hero' was really how great games can immerse people and inspire them," said Kai Huang. "And that's not only to have fun but also to get more active. We really are all about active gaming and so after we moved on from Activision, we started to have this interest in health, fitness and wellness."
"Most people think of workout equipment as boring and monotonous," he added. "You're basically staring at a wall for 30 to 60 minutes. So we really wanted to change that experience and make it more fun using our expertise in making great games."
According to Jill Duffy's PCMag review, Goji Play is not exactly "a full body, total fitness tracking tool with games and training, like the Wii Fit U system is. Nor is it an all-day activity tracker, like the Fitbit line of products, which don't include games but certainly do try to motivate you to move more overall. And considering the Goji Play's price in comparison with some of the other devices, I think it should do a whole lot more than what it does (such as doubling as an all-day activity tracker)."
"Fitness games will be part of the future of both exercise tech and video game development," notes Duffy, "but I'm not sure a $99 set of controllers is the way forward. This is especially true at a time when iOS devices in particular are making it easy to pare down the number of gadgets we buy."
Goji Play is available on its own site and via Amazon, although TechCrunch suggests there are retail partnerships expected.
Topics:
Activision
,
Activity
,
Amazon
,
App
,
Bicycle
,
Bike
,
Blue Goji
,
Bluetooth
,
Cardio
,
Controller
,
Elliptical
,
Equipment
,
Exercise
,
Exergame
,
Exergaming
,
Fitbit
,
Fitness
,
Fung
,
Game
,
Gamer
,
Gaming
,
Goji Play
,
Guitar Hero
,
gym
,
Health
,
Huang
,
Interactive
,
iPad
,
iPhone
,
iPod
,
Launch
,
Machine
,
OpenLink
,
Partner
,
Reader
,
RedOctane
,
Retail
,
Startup
,
Stationary
,
Team
,
Tracker
,
Treadmill
,
Wellness
,
Wii
,
workout