Millions of game consoles were sold in December, but the weak sales of game software came as a surprise. This has raised a troubling question about the health of the gaming industry. NPD Group reports that sales of new games at retail shops fell 17 percent to $1.31 billion while hardware sales rose 28 percent to $1.37 billion. The lean software sales have come despite the successful launch of new consoles from Microsoft and Sony, that sold in record numbers after release.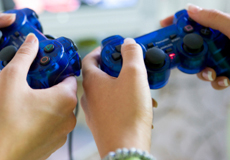 "Liam Callahan, an analyst at NPD, said in a statement that fewer games were released in December when compared with the previous year, and the new releases so far this season have struggled to perform well," reports The Wall Street Journal. "Some of the reason, he later said in an email, is that gamer's pockets may have been drained just by buying the new consoles, shifting money away from software."
Another possibility is that falling purchases of game titles for earlier hardware outweighed any growth in video games created for the new Microsoft Xbox and Sony PlayStation consoles. SuperData Research indicates that sales of traditional software delivered over the Internet in December jumped more than 71 percent to $378.9 million, driven primarily by demand for PC games.
"Money has also been flowing to games that don't initially charge customers to play, particularly titles like Riot Games's battle arena style game 'League of Legends' for PCs and Midasplayer International Holding's mobile device puzzle title 'Candy Crush Saga,' SuperData said. Revenue for those types of games rose 31.7 percent to $708.4 million," notes the article.
Overall, sales of new game software, consoles and accessories at U.S. retail stores rose 2 percent to $3.28 billion from $3.21 billion the previous year, according to NPD.
Topics:
Accessories
,
Callahan
,
Candy Crush
,
Console
,
Customers
,
Decline
,
Figures
,
Game
,
Gamers
,
Gaming
,
Group
,
Hardware
,
Industry
,
Liam
,
Microsoft
,
Midasplayer
,
Nintendo
,
NPD
,
PC
,
PlayStation
,
PS4
,
Purchases
,
Research
,
Retail
,
Riot
,
Rose
,
Sales
,
Shop
,
Slump
,
Software
,
Sony
,
Statistics
,
Store
,
SuperData
,
Traditional
,
Trend
,
Video
,
Video Game
,
Videogame
,
weaker
,
Wii
,
Xbox
,
Xbox One