In 2014, there were more than 370 scripted TV series, including those that were delivered by streaming. This year, say the experts, that number could top 400. We're living in a Golden Age of TV as viewers have a wealth of choices among all genres. But can this level of production be sustained? Are there enough viewers to keep numbers up for so many TV shows vying for dominance? Is there enough creative talent to keep writing and producing them? And is there a way for every show to make its mark in such a crowded environment?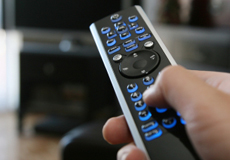 These were some of the questions that FX Networks president John Landgraf addressed, says The Wall Street Journal, at the semi-annual Television Critics Association press tour in Los Angeles.
The short answer to all those questions, says Landgraf, is no. He thinks the current number of shows is unsustainable in the long-run and that "2015 or 2016 will represent peak TV in America and that we'll begin to see decline coming the year after that and beyond."
Whether the platform is cable, broadcast or streaming, it needs a strong enough brand for original content to create a buzz. "As technology evolves and people consume television through different modes of delivery than channels, brands will become increasingly important as mediating filters for the overwhelmed viewing public," he says. "[Brands] are sign posts that point to their favorite choices."
He also addressed what he called the broken advertising model, pointing out that most TV viewers hate watching a show that is "interrupted by 20 television commercials or promos in an hour." He believes that targeted advertising and dynamic ad insertion will be the answer, being simultaneously less disruptive and more effective.
Streaming services will likely continue to create original content, he adds, but some smaller cable networks won't survive the current environment. "It's just the nature of every industry, that you seem to have proliferation and then consolidation… there's going to be a little bit of a culling of the herd," he said.
Topics:
Advertising
,
Brands
,
Broadcast
,
Cable
,
Channels
,
Commercials
,
Dynamic Ad Insertion
,
FX Networks
,
John Landgraf
,
Los Angeles
,
Networks
,
Online Streaming
,
Production
,
Streaming
,
Targeted Advertising
,
Television Critics Association
,
TV Ads
,
TV Advertising
,
TV Commercial Viewership
,
TV Shows
,
TV Streaming
,
Video