The Federal Trade Commission is taking an alternative approach to antitrust protections and Big Tech, focusing not on the ultimate harms of monopolies to consumers but rather the damage perpetrated by the giants inflicted on smaller companies that are often their partners. For an agency that since the mid-80s has focused its antitrust actions on the price-gouging or shoddy goods that usually result from consolidation, the new strategy may be an effective way to rein-in companies that offer their services free of charge, like Google and Facebook, or at what appears to be market rate, like Amazon.
Of course, there are costs, and there are hidden costs, like the fees Apple charges developers to use its App Store. The latter seems to be where the FTC is now focusing its energies.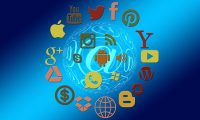 "U.S. competition regulators at the Federal Trade Commission are getting creative," writes The Wall Street Journal, noting that under Biden-appointee Lina Khan, the agency "has been shifting the terms of the argument, focusing less on harm to consumers or even rivals, and more on how the bigness of Big Tech harms companies that are, in essence, its partners."
To illustrate its point, WSJ explores "an unusual word the FTC has used of late: monopsony," explaining that "If a monopoly is a market with one dominant seller, a monopsony is its inverse, a market where one buyer is pre-eminent. Monopolists can gouge consumers. A monopsonist has the same power over sellers."
The same pipeline to consumers that has made Big Tech giant piles of money can also be seen to "effectively make them market-controlling middlemen," or gatekeepers.
For critics of Big Tech, "it might seem like the FTC's small band of legal X-wings have found the thermal exhaust port in Big Tech's collective Death Star. The companies, of course, frame the situation differently, and see the FTC as the tyrannical Empire imposing its will over a world where they have provided unprecedented opportunities for app developers and other whole new categories of business," WSJ explains, using a "Star Wars" analogy.
Prior to being named FTC commissioner in June, Khan authored several papers that argued abuse of market dominance was good cause to regulate companies that used their clout to quash competitors. And Khan isn't the only pursuing Big Tech, "the Justice Department also has jurisdiction," WSJ points out.
Some states attorneys general have also brought suit. But with her high-profile win, getting a federal judge to rule this month that the FTC's lawsuit against Facebook parent Meta Platforms can proceed, Khan is in the spotlight.
"The FTC clearly wants to go beyond the previous attempts to curtail Big Tech's power," WSJ writes, noting past punishments "have mostly been limited to occasional fines representing small fractions of these companies' annual revenues or skirmishes with states over minor fiefs of their empires."
Related:
FTC Chair Lina Khan Sits Down with Andrew Ross Sorkin and Kara Swisher to Discuss Her Plans to Take on Big Tech, CNBC, 1/19/22