Sony Interactive Entertainment is purchasing Bungie, creator of the "Halo" video game franchise and "Destiny 2." The deal, valued at $3.6 billion, caps a robust month of game company acquisitions that saw Microsoft make a $68.7 billion bid on Activision Blizzard and Take-Two Interactive offer $12.7 billion for Zynga. The Bellevue, Washington-based Bungie will be operated as an independent that continues to make multi-platform games, SIE president Jim Ryan said in an announcement. "Destiny 2" was released for Xbox and PC as well as PlayStation platforms.
"Their track record in developing massively successful franchises in the sci-fi shooter genre will be highly complementary to SIE's own IP portfolio," Ryan explained in an SIE Blog post.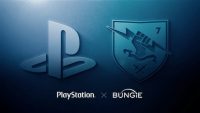 "We will continue to independently publish and creatively develop our games," Bungie chairman and CEO Pete Parsons said on the PlayStation blog. "We will continue to drive one, unified Bungie community. Our games will continue to be where our community is, wherever they choose to play.​"
Parsons said the agreement will result in an immediate hiring spree across Bungie "to support our ambitious vision." Since its release in 2017, Bungie continues to develop "Destiny 2," one of the top-selling first-person shooter games of all-time. Pro Game Guides calls it the second most popular MMO game (after Blizzard's "World of Warcraft"), estimating it has a player base of just under 40 million people and earns "anywhere from $100-$500 million in revenue every year."
Bungie in 2018 said it was creating "new worlds" with a $100 million investment from NetEase Games, the Chinese Internet and games firm. At present, Bungie has over 900 employees.
"PlayStation Studios has been aggressively expanding its roster over the past year, adding 'Demon's Souls' remake studio Bluepoint Games, 'Returnal' developer Housemarque, 'The Playroom' developer Firesprite, and PC port specialist Nixxes Software to its ranks," reports Polygon, adding last year's acquisition of the Evolution Championship Series fighting game tournaments (known as Evo) and an investment in Discord to the list.
Bungie is the original developer of "Halo," another enormously popular FPS game that is now part of Microsoft's IP under 343 Industries. Microsoft owned Bungie from 2000 to 2007 and used "Halo" to leverage the Xbox in late 2001. In his own blog post on SIE, PlayStation Studios chief Hermen Hulst called Bungie "a historic studio that has made significant contributions to the medium" and pointed out that PlayStation has over the past year "expanded to a total of 17 studios across the globe."
"Technology companies are increasingly interested in gaming as they look to expand audiences and prepare for future iterations of virtual and augmented reality devices," writes CNBC, noting that concurrent with the announcement Sony rose about 4.3 percent Monday afternoon.
Related:
Sony to Buy Videogame Maker Bungie in $3.6 Billion Deal, The Wall Street Journal, 1/31/22
PlayStation: Bungie Deal Is About Multiplatform, Live-Service Games, Games Industry, 1/31/22
Big Video Game Companies Just Can't Stop Buying Studios, The Verge, 1/31/22
Topics:
343 Industries
,
Activision Blizzard
,
Bluepoint Games
,
Bungie
,
Destiny 2
,
Discord
,
Evo
,
Firesprite
,
Halo
,
Hermen Hulst
,
Housemarque
,
Jim Ryan
,
Microsoft
,
NetEase Games
,
Nixxes
,
Pete Parsons
,
PlayStation
,
SIE
,
Sony Interactive Entertainment
,
Take-Two Interactive
,
Video Games
,
World of Warcraft
,
Xbox
,
Zynga