German research organization Fraunhofer, known for its extensive work in applied sciences, including its contributions to compression tech used for today's MP3 audio and MP4 video, is now working on 5G virtual reality streaming software. Last year, Fraunhofer revealed its high-speed VR microdisplay hardware. It is now demonstrating new video compression software based on the MPEG-OMAF standard, which allows for streaming of 360-degree video over 5G networks. The goal is to minimize the problems related to resolution, compression artifacts and latency commonly experienced when streaming VR content over 4G and Wi-Fi networks.
"Based in 'significant' part upon Fraunhofer video compression technologies, MPEG-OMAF breaks wraparound videos into grids of tiles encoded at multiple resolutions," reports VentureBeat. "Unlike traditional videos, which stream from servers at one user-selected resolution, these VR videos dynamically use high-resolution tiles where the viewer is currently looking, and low-resolution tiles for parts that are out of sight."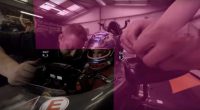 User head movement determines which mix of streamed tiles is requested by the VR hardware in order to optimize the user's area of focus. This technique enables continuous streaming of 360-degree video while offering "maximum detail."
"It parallels the recent use of foveated rendering to maximize real-time 3D graphics for VR users, guaranteeing that head-moving viewers will always be able to see something through their peripheral vision, even if it's lower in fidelity," notes VB.
According to the press release from Fraunhofer Heinrich Hertz Insitute (HHI): "The MPEG-OMAF standard allows to package HEVC tile streams in a way that the receiver, e.g. VR glasses, TV screen or a web browser, can request the high-definition tiles for the user's viewport and low-definition tiles for the areas out of sight. The tiles are aggregated into a single HEVC compliant video stream and decoded with a legacy hardware video decoder on the end device."
The MPEG-OMAF standard has been adopted for 5G VR streaming by mobile standards organization 3GPP. For additional details from Fraunhofer, check out the 10-minute video presentation, "HTML5 MSE Playback of MPEG 360 VR Tiled Streaming."
Topics:
360-Degree Video
,
3D
,
3GPP
,
4G
,
5G
,
Audio
,
Compression
,
Foveated Rendering
,
Fraunhofer
,
Germany
,
Heinrich Hertz Insitute
,
HEVC
,
Latency
,
MP3
,
MP4
,
MPEG
,
MPEG-OMAF
,
Networks
,
Resolution
,
Software
,
Streaming
,
Tile
,
Video
,
Virtual Reality
,
VR Headset
,
Wi-Fi