At CES in January, Fox Innovation Lab showed its first cut of "The Martian VR Experience." Now, 11 months later, 20th Century Fox's Lab has just released the finished product, directed by Robert Stromberg and executive produced by Ridley Scott, for use with HTC Vive and PlayStation VR. "The Martian VR Experience," which is available to consumers for $19, takes viewers into the world of the 2015 Fox movie "The Martian," directed by Scott, where astronaut Mark Watney (played by Matt Damon) was abandoned on Mars.
Variety reports "The Martian VR Experience" is "the first time for a studio to release a commercial title for the new medium." The VR experience allows participants to "navigate machinery in the midst of a sand storm, drive a Mars rover, deal with highly explosive plutonium and more." Speaking of the first cut of the VR experience shown at CES, Fox Searchlight Pictures co-head of production David Greenbaum says, "there have been a lot of technical and narrative improvements."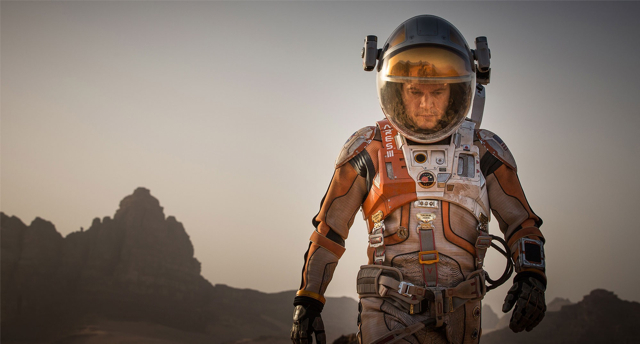 Fox Innovation Lab president Mike Dunn notes that "The Martian VR Experience" is "not a one-off," although he declined to give details of what new VR projects are in development.
"This is our first swing at the plate," said Dunn. "Our intention from the moment we developed our business plan was to be in the commercial VR business." Many studios have limited their experiments to 360-degree videos, mainly to promote existing TV shows.
"That is selling virtual reality short," said 20th Century Fox president of post production Ted Gagliano. Dunn agrees. "We see VR as a new media opportunity, not just a promotional vehicle," he said.
With regard to producing virtual reality, Fox Innovation Lab has "been doubling as a kind of company-wide R&D lab," and all three Fox executives agree that VR is still "a learning experience."
"We remain totally humble students to the technology," said Greenbaum. "No one is an expert." Gagliano adds that, though the company "started as evangelists," everyone involved considers themselves "explorers." The trio said they are examining each studio project to find the right match for the next VR project.
"We have a slate against our tentpole films going forward and we are going to work with global partners to bring them to market," said Dunn. "It is going to be an exciting year."
Topics:
20th Century Fox
,
360-Degree Video
,
CES 2016
,
David Greenbaum
,
Fox Innovation Lab
,
HTC Vive
,
Mark Watney
,
Marketing
,
Mars
,
Matt Damon
,
Mike Dunn
,
Movie
,
PlayStation VR
,
Ridley Scott
,
Robert Stromberg
,
Sony
,
Ted Gagliano
,
Television
,
Tentpole
,
The Martian
,
The Martian VR Experience
,
TV Show
,
Video
,
Virtual Reality
,
VR Headset