Clear Channel, which owns the iHeartRadio online music service and about 800 radio stations, announced this week that it will pay Fleetwood Mac a percentage of radio-advertising revenue in exchange for playing the band's newest music via online services. As Internet radio and subscription services impact the music business, Clear Channel has initiated deals with labels for digital use of music in exchange for a share of airplay revenue. Fleetwood Mac is the first to close such a deal directly.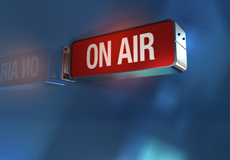 "The agreement puts Fleetwood Mac among a handful of performing artists that get paid anything at all when their music is played on the radio in the U.S.," reports The Wall Street Journal. "Unlike in most other countries, U.S. law requires radio broadcasters to pay so-called performance royalties only to music publishers, which represent songwriters, but not to the artists who perform the songs nor to their record labels."
"That is because historically, radio play gave performing artists exposure that helped them sell records," notes the article. "Songwriters benefit from record sales, too, but not as much as performers. As record sales have plummeted over the past decade, record labels have fought to change the law, but efforts to date have failed."
Fleetwood Mac's deal with Clear Channel applies to "Extended Play," its new self-released four-song EP. The band's best-known albums are not covered by the new deal, since they are controlled by Warner Music Group.
"Digital royalties are becoming an increasingly significant expense for music providers," explains WSJ. "SoundExchange, a nonprofit organization that collects and distributes royalties to performing artists when their songs are played digitally, collected $502 million in 2012, a 35 percent increase from 2011. Labels and performing artists have been entitled to collect royalties on digital use of their work since 1995 when the Digital Performance in Sound Recordings Act took effect."
Related News:
BMI Files Suit Against Pandora, The Hollywood Reporter, 6/13/13
BMI to Sue Pandora: Sources, Billboard, 6/13/13
Topics:
Artist
,
Band
,
BMI
,
Business
,
Classic
,
Clear Channel
,
Extended Play
,
Fleetwood Mac
,
Law
,
Legal
,
License
,
Licensing
,
Music
,
Musician
,
Pandora
,
Publish
,
Publishing
,
Radio
,
Revenue
,
RIAA
,
Rock
,
Royalties
,
Royalty
,
SoundExchange
,
Stream
,
Streaming
,
Warner
,
Warner Music Group