Despite those who claim a drop in P2P activity, legal pressure and growing popularity of paid services have not led to a decline in file sharing. According to Tru Optik, 300 million users swap files via BitTorrent each month. Tru Optik estimates that more movies and TV shows are downloaded by file sharers than are sold via iTunes, Google Play and Amazon combined. The U.S. accounts for more downloaded media and software than any other country, with the exception of video game downloads in Brazil.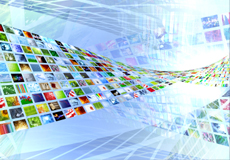 When asked about recent research from Internet traffic management firm Sandvine, which claims that Netflix is now responsible for 34.2 percent of all peak downstream traffic while BitTorrent is only responsible for 3.4 percent, Tru Optik CEO Andre Swanston said: "There is a false assumption made that there is a correlation between percentage of network bandwidth and active monthly users or numbers of files downloaded."
The point is that in order to judge a medium's popularity, researchers must analyze more than a share of network traffic.
Tru Optik is now launching a P2P data analytics API, promising real-time access to file sharing data, in order to quantify file sharing. "In the month of March, we connected with over 150 million unique IPs just from the top 7000 torrents on (the) Pirate Bay," Swanston said.
According to GigaOM, "That data could power personalized content recommendations and help brands and media companies understand what consumers really want."
Topics:
Amazon
,
Analytics
,
Analyze
,
API
,
Bandwidth
,
BitTorrent
,
Brazil
,
Consumer
,
Content
,
Country
,
Data
,
Download
,
Epsiode
,
File
,
Film
,
Game
,
Google Play
,
IPS
,
iTunes
,
Legal
,
Movie
,
Netflix
,
Network
,
P2P
,
Peak
,
Pirate Bay
,
pressure
,
Program
,
Real Time
,
Recommend
,
Research
,
Series
,
Share
,
Sharing
,
Show
,
Software
,
Stream
,
Streaming
,
swanston
,
Television
,
Torrent
,
Traffic
,
Tru Optik
,
TV
,
Video
,
Video Game