An auction of wireless licenses, which began December 8 and is conducted by the Federal Communications Commission, has thus far reaped $69.8+ billion. The auction shut down during the holidays but recommenced January 4, meaning the total bids will likely increase. The previous record, in 2015, was the $44.9 billion raised by a sale of mid-range cellular licenses to boost 4G coverage. The winning bidders will not be revealed until the auction ends, but AT&T and Verizon are pegged by analysts to be dominant.
The Wall Street Journal reports that, "the recent bids have blown past Wall Street's highest forecasts, suggesting that several companies are fighting over the most valuable wireless rights," noting that AT&T and Verizon aim to even up the assets T-Mobile obtained by taking over Sprint in February.
"Mid-band spectrum will be where 5G lives," said LightShed Partners telecom analyst Walt Piecyk. Mid-band spectrum is between 3.7 and 4 gigahertz, "considered well-suited for 5G service" and already available in new 5G phones.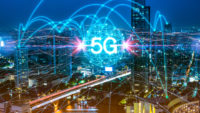 Auction winners will also "need to spend at least $13 billion more to help modify equipment for a group of satellite companies that already use the frequencies … [and] agreed to an FCC plan that shifts their TV transmissions to a narrower portion of the radio spectrum known as C-band."
Referring to the record-breaking auction, Piecyk noted that, "when the numbers get this big, you have to assume that everybody's getting more aggressive." Mobile providers are facing competition from such rivals as Dish Network, which "won many of the licenses sold in the 2015 auction." That satellite provider — which is building out its own mobile network — "this month raised more cash through a $2 billion convertible-note offering to help fund more network investments."
Comcast and Charter Communications also partnered to bid in the current auction, having "spent nearly $1 billion on a smaller license sale earlier this year."
Raymond James analyst Frank Louthan noted that the big bucks required to acquire new spectrum won't faze cellphone carriers. "Investors see these companies as some of the most secure around," he said. "I don't think a slight change in a debt ratio would make much of a difference."
WSJ says that, "the auction is a first step in a multiyear process" that means customers "might not see the full band cleared for cellphone service until late 2023, though there is an early tranche slated to move by late 2021." To move more quickly, auction winners could also "pay the incumbent satellite users larger fees to quicken their relocation," allowing them to use existing cell-tower gear.
"Time to market matters," said Louthan. "We generally see prices get high when you can deploy spectrum quickly."