Online movie ticketing destination Fandango announced that its service will be embedded on Samsung Internet-connected TVs and directly available via the Samsung Smart Hub. NBCUniversal-owned Fandango has been accessible on smart TVs, but has required a download. The Samsung deal will make Fandango directly available. Although Fandango is known primarily as a ticketing service, it will essentially power the Trailers section of the Smart Hub's Movies & TV section.
"Fandango's high-definition movie trailers, embedded with ticketing features, will be built into the Movies & TV Shows panel, a video recommendation and discovery service offered on Samsung smart TVs," explains the Los Angeles Times, noting the service will launch in the first quarter.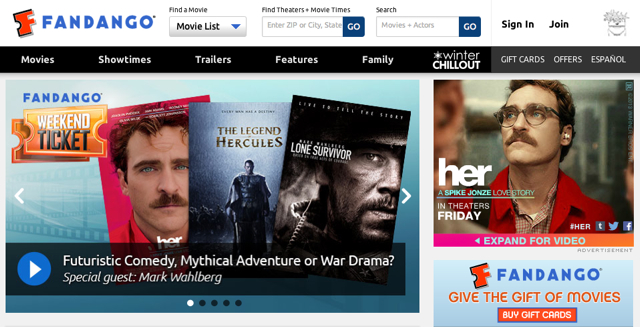 Mark Young, VP of mobile strategy and business development at NBCUniversal, described it as the "branded storefront for all movie trailers," comparing it to music video platform Vevo.
"We believe Fandango as the movie discovery brand has an opportunity to work with not just consumer electronics manufacturers but also other types of over-the-top delivery services," he said. "It's a definite strategy for us to be more forward-leaning in video as content discovery."
"Although the announcement, which is being made at the Consumer Electronics Show, is the first of its kind for Fandango, Young said the team has been looking beyond ticketing for some time, for example with the launch of original video series 'FrontRunners' and 'Weekend Ticket,'" reports TechCrunch.
In September, Fandango's ticketing, trailers and "Weekend Ticket" were integrated into Samsung's Galaxy Note 3 devices.
Topics:
2014
,
Brand
,
CEA
,
CES
,
Connected
,
Consumer
,
Content
,
Delivery
,
Discover
,
Discovery
,
Download
,
Electronics
,
Fandango
,
Film
,
Galaxy
,
HD
,
Las Vegas
,
Marketing
,
Movie
,
Music
,
NBCUniversal
,
Note
,
Online
,
OTT
,
Promo
,
Promote
,
Recommend
,
Samsung
,
Show
,
Smart
,
Smart Hub
,
Smart TV
,
Strategy
,
Television
,
Ticket
,
Ticketing
,
Trailer
,
TV
,
Vevo
,
Video
,
Young