Facebook, which just renewed four original series that have proven popular, also highlighted the success of Facebook Watch, which debuted in the U.S. in August 2017. The renewed shows are Kerry Washington's "Five Points," influencer Huda Kattan's reality show "Huda Boss," fairy-tale-inspired series "Sacred Lies," and drama "Sorry For Your Loss" with Elizabeth Olsen. Facebook Watch now attracts 400+ million users around the world who spend at least one minute on the site, with 75 million doing so on a daily basis.
Variety reports that, "on average they spend more than 20 minutes streaming video on Facebook Watch." "The reason we created Facebook Watch was to invent what entertainment could look like when you put people at the center," said Facebook head of video Fidji Simo. "That's what is driving a lot of our content strategy, and the renewals are driven by a large part by the fact that they've created large communities."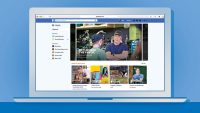 Facebook sees opportunity in the fact that the 75 million daily viewers represent only 5 percent of its 1.5 billion base of daily users. Head of global creative strategy Ricky Van Veen said the company has funded "dozens" of original productions and will "invest in more content in 2019, including internationally," with the long-term goal to "turn Facebook Watch into a service fully fed by third-party creators and partners, who get a cut of ad revenue."
Simi reported that the four shows that were renewed "have a basic thread connecting them," which is the social element that makes them "better because they're on Facebook." The most followed Facebook Watch show is Jada Pinkett Smith's "Red Table Talk" talk show with 4.3 million followers and a 440,00-member Facebook Group.
Facebook Watch's "most-viewed episode to date is Mike Rowe's 'Returning the Favor' segment 'Operation Combat Bikesaver,' which has 41 million views to date." Facebook Watch includes ad breaks in the U.S., U.K., Ireland, New Zealand and Australia, 70 percent of which are viewed to completion.
Recode reports that Facebook "wants to sell consumers subscriptions to cable TV networks like HBO and hopes they'll watch those networks on its own apps." The social media network is in talks with HBO, Showtime, Starz and other pay TV channels to enable them to realize this play. Channel subscribers would most likely watch content via the company's Watch service.
According to sources, Facebook hopes to launch the service in the first half of 2019. The step, says Recode, "would be both a logical path for Facebook, given its big ambitions to become a video hub, and a big departure for the company," the latter because it "hasn't made a big push to sell anything directly to consumers."
At the same time, Facebook has spent big money to acquire top programs, bidding $600 million in 2017 in "an unsuccessful attempt to stream Indian cricket matches." Experts predict that, "TV programmers will expect Facebook to shell out advance payments for multiple-year deals, which [it] would recoup by pocketing some of the channels' subscription fees."
Related:
Facebook's Version of YouTube Takes Shape With Pranksters, Magicians and Cartoons, The New York Times, 12/16/18
Topics:
Advertising
,
Cable TV
,
Elizabeth Olsen
,
Facebook
,
Facebook Watch
,
Fidji Simo
,
Five Points
,
HBO
,
Huda Boss
,
Huda Kattan
,
Jada Pinkett Smith
,
Kerry Washington
,
Mike Rowe
,
Red Table Talk
,
Returning the Favor
,
Ricky Van Veen
,
Sacred Lies
,
Showtime
,
Social Media
,
Sorry For Your Loss
,
Starz
,
Subscription
,
TV Shows
,
Video