Facebook Gaming has been invaded by spammers and infomercials, according to recent reports that found Ukrainian war footage and video clips featuring individuals hawking foot callus removal kits and diet pill purveyors posted on what was supposed to be Meta Platforms' answer to Amazon's Twitch. Some of the videos masquerading as "live" featured up to 11 hours of looped recordings. In late 2021, Facebook Gaming listed seven such spurious accounts in the Top 10, sometimes attracting as many as 50,000 simultaneous viewers, according to data analytics firm Stream Hatchet.
Bloomberg says Facebook parent Meta "delisted or removed" many of the suspicious channels after the media outlet brought the anomaly to the company's attention. In Q4 of 2021, off-topic channels accounted for "42 percent of the hours watched on Facebook Gaming's 200 top channels," according to Bloomberg.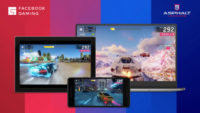 Last fall, Streamlabs reported Facebook Gaming had overtaken YouTube Gaming "to become the second-most popular platform by hours watched, just behind Twitch," writes Yahoo News, noting that in January, StreamElements reported Facebook Gaming "had its best month ever, hitting a new peak of 617 million hours of monthly watch time. Reports like these have raised eyebrows for some, as Facebook has struggled to attract high-profile streamers, despite its significant investments in live gaming."
Facebook Gaming mounted a well-funded launch in 2018, luring Twitch stars like Jeremy Wang with million-dollar deals, according to some reports. In 2020, Facebook introduced the Facebook Gaming mobile app. When Microsoft closed its Mixer live-streaming game service, Facebook tried to lure those streamers into its fold, dangling incentives.
"Streamers saw it as a chance to stand out with less competition than they faced on Twitch," Bloomberg reports, detailing the experience of Popa, a UK-based game streamer who quickly amassed 28,000 followers for his "Euro Truck Simulator" on Facebook Gaming in 2020.
"When he was live, his viewer number hovered around 700 — a stark upgrade from Twitch, where he only attracted about 10 or 15 live viewers," Bloomberg says, noting issues: "Unlike on Twitch, where his viewers talked with him constantly in the accompanying chatbox, on Facebook, most of them were totally silent, or complained that his stream was an unwelcome surprise in their newsfeed."
Last year, metrics for Popa and others on Facebook Gaming "fell precipitously," Bloomberg reports, claiming the extraneous content made it "difficult for serious game streamers to make a name for themselves or build an enthusiastic audience around their work." The news outlet reports "the number of Facebook Gaming streamers has declined since 2021, with top personalities … defecting to Twitch  in the last few months."
"The fast fade of Facebook Gaming shows Meta's challenge in driving young people and their vibrant communities to its flagship social network, and the limitations of its strategy to copy competitors' successful products," suggests Bloomberg.
Despite the glitches, Facebook proclaims its gaming initiative a success, saying in a statement reported by Bloomberg: "As we zoom out we see a long term upward trend in both the number of creators and viewership on Facebook Gaming."
Topics:
Amazon
,
Chat
,
Creators
,
Euro Truck Simulator
,
Facebook Gaming
,
Gamers
,
Infomercials
,
Jeremy Wang
,
Live Gaming
,
Live Streaming
,
Meta
,
Meta Platforms
,
Microsoft
,
Mixer
,
Newsfeed
,
Popa
,
Social Gaming
,
Spam
,
Stream Hatchet
,
StreamElements
,
Streamlabs
,
Twitch
,
Ukraine
,
United Kingdom
,
YouTube Gaming