Facebook is building audiences for its new Watch video platform with a strategic series of deals and productions. The social media platform nabbed exclusive rights to "Mixed Match Challenge," a 12-episode 20-minute live weekly show from WWE that it will begin streaming on January 16 in the U.S. only. The ad-free series is an elimination, tag-team tournament that matches male and female stars from "Raw" and "SmackDown Live." Facebook also ordered three original weekly series from Vice Media, all of them unscripted.
Variety reports that, after an undisclosed window, rights will revert to WWE, which may distribute it as VOD on its subscription-streaming platform. WWE states that each episode "will be produced in a way that's optimized for mobile viewing and social interaction." Fans will be able to vote "for the final competitor from the Raw roster, as well as which tag-team member of The New Day will be added to the SmackDown Live team."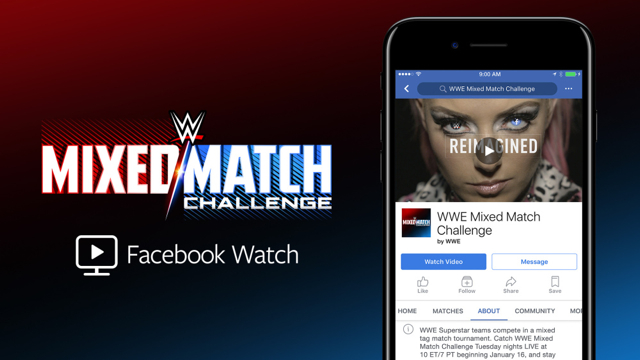 "It highlights our ability to create content specific for a social platform," said WWE executive vice president of digital and social content Jayar Donlan. "Fan interaction is a big piece of it … It's kind of like being at an event."
Facebook head of global sports partnerships Dan Reed said that it is "still testing ad insertion in live programming and expects to eventually sell advertising in content on Watch." Donlan reports that, although "Mixed Match Challenge" will be shot by the same crew and in the same city as "SmackDown Live," the Facebook show will have its own "look and feel," with "bolder, brighter graphics," tighter action shots and 360-degree video.
The tournament winner will donate $100,000 to the charity of his/her choice. Tag-Team partners will be announced January 4. Across all its pages, WWE "has nearly 500 million likes cumulatively" on Facebook.
Elsewhere, Variety reports that Facebook ordered three original weekly series from Vice Media for its Watch platform. Hosted by Amanda Knox, "The Scarlet Letter Reports" explores "how women and girls have been publicly 'shamed' and attacked in the media."
The other two shows are "Breaking & Entertaining," described as a "surprise-renovation reality show," and "The Hangover Show," hosted by butcher/cook Cara Nicoletti, who shows how to recover from a night of too much drinking. Facebook is producing the shows, "making Vice among the select partners the social media giant is buying content from."
Other Facebook-funded shows include reality series "Ball in the Family," following the family of NBA star Lonzo Ball; "Returning the Favor," hosted by Mike Rowe; "Bill Murray and Brian Doyle-Murray's Extra Innings"; and drama series "Five Points" with "Scandal" star Kerry Washington on board as executive producer.
Topics:
360-Degree Video
,
Ad-Free
,
Amanda Knox
,
Ball in the Family
,
Bill Murray
,
Breaking & Entertaining
,
Brian Doyle-Murray
,
Cara Nicoletti
,
Dan Reed
,
Facebook
,
Five Points
,
Jayar Donlan
,
Kerry Washington
,
Lonzo Ball
,
Mike Rowe
,
Mixed Match Challenge
,
Mobile
,
Original Series
,
SmackDown Live
,
Social Media
,
Sports
,
The Hangover Show
,
The Scarlet Letter Reports
,
Vice Media
,
Video
,
VOD
,
Watch
,
WWE
,
WWE Raw