"AI and Ethics" was the topic of ETC@USC's March 30th Executive Coffee with… discussion, the third installment of the Spring 2021 series. WarnerMedia's Renard Jenkins, vice president of content transmission and production, and Michael Zink, vice president of emerging and creative technologies, led the discussion with 12 graduate and undergraduate USC philosophy, cinema, engineering and innovation majors. They explored how diversity and bias impact AI development, and how AI is expected to impact entertainment experiences.
Jenkins (pictured below) kicked off the discussion by articulating the idea that there is no way to create a completely non-biased model, but you can get as close to an unbiased model as possible by having a diverse group of individuals at the table who can identify bias as they see it taking shape within the model.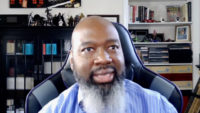 He added that as you strive for diversity in your team, make sure that you also address diversity of thought. You can have people who have very similar profiles on paper, and yet have completely different ways of interpreting the world around them.
Nripsuta Saxena, whose graduate research focuses on ethics and fairness in AI, posited that you can have both data and programmers that are completely unbiased and still end up with a model that is biased. WarnerMedia's Zink (below) raised the importance of recognizing unconscious bias as you both create and deploy these systems.
Robotics engineer PhD student Connie Zhang made the point that improperly designed AI can accidentally exacerbate social inequality. The neighborhoods and communities where you test technology and make changes based on the gathered test data will shape the paths of adoption both within and beyond similar neighborhoods and communities.
Amarachi Chimezie, a sophomore innovation major, noted the importance of authenticity in any discussion of diversity. If there is public-facing diversity but no meaningful diversity behind the scenes, people will sense the disconnect.
Philosophy graduate student Irene Bosco explained "the accountability gap." There is a debate in philosophy circles around who is responsible and who is to blame for the performance and results of an AI. Some philosophers believe that all of society should accept and share responsibility for the outcomes of algorithms because we want technology to advance and improve. Others would hold the algorithms' designers responsible.
Bosco asked: If the AI's process is opaque and the algorithm can generate results that no human has imaged (for example, AlphaGo), can an algorithm be considered a moral agent?
A rapidly increasing amount of data is being gathered to drive AI, IoT, and immersive media applications, including biometric information that could be used to drive real-time storytelling. Jenkins posited the dilemma that he is not sure he would want his biometric data used to create a virtual twin of himself that would live on, learn and evolve forever, but he himself would be very interested in seeing what art a virtual twin of the late artist Prince would create.
The group recognized the need for more research into a great many ethical issues related to AI and technology in general. Where that research should take place and who should fund it remains an open issue.
For more of the discussion, check out the 10-minute highlight video online.
The ETC@USC's Executive Coffee with… Series
The Entertainment Technology Center at USC produced its second series of virtual "executive coffee discussions" during the Spring 2021 semester. These one-hour discussions provide an opportunity for students and ETC member company executives to connect and discuss topics of mutual interest during this period of remote learning and social distancing.
For each session an executive posed one question or topic, students from across USC submitted brief statements of interest, and the ETC invited between 6 and 12 students to participate in the Zoom meeting. Each session was recorded and a 7- to 10-minute highlight video was produced.
The sessions included: Verizon — "Expectations for Entertainment and UI/UX" (March 15), Verizon — "What Comes After Zoom and Entertainment Apps" (March 24), Warner Bros. — "AI and Ethics" (March 30), Disney — "The Future of Immersive Media Storytelling" (April 7), and Warner Bros. — "The Post-Pandemic Future of Virtual Production" (April 21).
The videos are available on the Executive Coffee with… page online.