The 2018 CG animated movie "Ralph Breaks the Internet" raked in more than $500 million in box office revenues last year and, this year, visitors to The VOID in the Venetian Hotel in Las Vegas will be able to have the immersive "Ralph Breaks VR" experience. Located in the Grand Canal Shoppes, the experience — from Disney and Lucasfilm's ILMxLAB in partnership with The VOID, allows four players to enjoy features not possible in a home VR experience. "Ralph Breaks VR" is available in eight locations including Las Vegas.
VentureBeat reports the team that created this VR experience previously created The VOID's "Star Wars: Secrets of the Empire." Greeters help the user get into her VR rig, composed of a backpack with a special-purpose laptop connected to a VR headset, but without hand controllers found with Oculus Rift. VR characters look the players in the eye due to eye-tracking technology.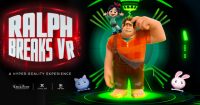 The VB reporter entered a room where he played a "Dunderdome" game, hitting physical buttons to "make things happen in the virtual environment." "As you do that, you can check your avatar's wristband for a holographic display that shows you your score," which the reporter dubs a "a nice way of onboarding people who had no clue what VR is."
The VOID chief creative officer Curtis Hickman explained that "Ralph Breaks VR" was "about combining things we've done in the past to bring the world of 'Ralph Breaks the Internet' to life."
After the "Dunderdome" game, the reporter moved to another room where, with a wooden prop that was a virtual gun, he started firing in the Pancake Milkshake Diner. "There, I fired a bunch of milkshake and pancake goo at some cute little fuzzy animals who were also firing back at me." ILMxLAB lead experience designer Jose Perez III, who said it took a year to create the experience, noted that, "it's way more kid friendly, more like a food fight than a shootout."
The VOID adds scents in this room as well. The experience, concludes the VB reporter, was "a nice way to get everyone — from your kids to your grandparents — to their first VR experience … and yes, it does live up to its marketing hype of making you feel like you're stepping into an animated film."
"We tried to make this a broad family experience where we take them to another world," said Hickman. "The response has been very positive."
The experience lasted about 20 minutes. The VB reporter reported no tracking problems. "I think this kind of technology and entertainment experience is what VR needs to survive," he concludes. "It needs to blow us away with location-based entertainment, as the cost of home VR kits comes down to a level where more of the mass market can enjoy them."
Perez reported that the experience was made "specifically for The VOID" with no plans to port it to the home. For a list of locations — including Anaheim, Glendale, Orlando, Santa Monica — and to buy tickets, visit The VOID's "Ralph Breaks VR" site.
Topics:
Anaheim
,
Animation
,
Chris Hickman
,
Disney
,
Dunderdome
,
Eye Tracking
,
Glendale
,
Holographs
,
ILMxLAB
,
Jose Perez III
,
Las Vegas
,
Location-Based Entertainment
,
Lucasfilm
,
Oculus Rift
,
Orlando
,
Ralph Breaks the Internet
,
Ralph Breaks VR
,
Santa Monica
,
Star Wars: Secrets of the Empire
,
The VOID
,
Virtual Reality
,
VR Experiences
,
VR Headset